Bashford, Robin Enabling Works, Keble College, Acland Hospital Site, Oxford Archaeological Watching Brief Report. [Client Report] (Unpublished)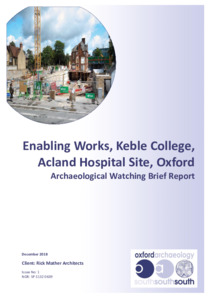 Preview
PDF




OXKEAC13.pdf


Download (4MB) | Preview
Abstract
In November 2013 Oxford Archaeology (OA) conducted an archaeological
watching brief during the excavation of a trench for a guide wall to facilitate a
piling rig. This was in advance of the installation of a contiguous pile wall along
the southern-western boundary of the site of the former Acland Hospital,
Woodstock Road, Oxford (centred at SP 5132 0639). The watching brief
recorded evidence for a post-medieval building and deposits associated with
its demolition prior to the construction of the Acland Hospital buildings from
the latter part of the 19th century. A stone lined well was also recorded,
although the relationship between this structure and the building was
uncertain. A relatively sterile reddish-brown deposit appeared to be the
earliest deposit encountered and may represent the post-glacial brickearth
known to overlay the second gravel terrace on which Oxford sits. Alternatively,
it is possible that it represented fills derived from the brickearth. Features with
fills of similar composition have been excavated on numerous sites across the
city, and are often associated with activity pre-dating the urban development
of Oxford following the foundation of the burh in the 9th-10th century.
Actions (login required)