Robinson, Ben (1992) An Archaeological Investigation of Dullingham to Swaffhams Pipeline. [Client Report] (Unpublished)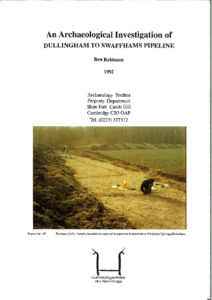 Preview
PDF




CCCAFU_report65.pdf


Available under License Creative Commons Attribution Share Alike.
Download (4MB) | Preview
Abstract
Fieldwalking surveys, excavations and pipe-trench monitoring were carried out by Ben Robinson (Cambridgeshire County Council Archaeology Section) on behalf of the national Rivers Authority, along the route of the Dullingham to Swaffhams river support pipeline.
A fieldwalking survey was carried out prior to pipe-trench easement stripping. The entire length of the pipeline was examined; no new sites were located.
Pipe-trench monitoring was used to supplement information gained by prior excavation. In various location along the pipeline archaeological features were encountered.
Excavations were carried out prior to trenching. At Mill Stream, Swaffham Bulbeck, a portion of the old Mill Stream was exposed. Iron Age/Romano-British grain storage pits were excavated. A Romano-British building and enclosures were detected by geophysical survey at Whiteland Spring, Bottisham. Pits and ditches, and a gated entrance to an enclosure were excavated. The remains of a probable Romano-Celtic temple were investigated. A Devil's Dyke, post-medieval cart tracks and a cartway leading into the Dyke's ditch were located. In Swaffham Prior, a trackway leading from a substantial Romano-British building to a possible temple site was examined at Goodwin Farm and the profile of a medieval Lynchet, now a parish boundary, was recorded at Cadenham Plantation.
Item Type:
Client Report
Uncontrolled Keywords:
Cambridgeshire, cambridgeshire, pipeline, Pipeline, Swaffham Bulbeck, swaffham bulbeck, Bottisham, bottisham, Swaffham Prior, swaffham prior, Devil's Dyke, Devils Dyke, devil's dyke, devils dyke, Iron Age, iron age, Roman, roman, Medieval, medieval, Post-Medieval, post-medieval, Post Medieval, post medieval, Excavation, excavation, archaeological excavation, Watching Brief, watching brief, pit, pits, grain storage, grain storage pit, enclosure, enclosures, enclosure ditch, ditch, ditches, roman enclosure ditch, roman pit, roman ditch, trackway, track way, roman trackway, lynchet, medieval lynchet, post-medieval parish boundary, temple, temple site, romano-celtic temple, pottery, Pottery, pot, ceramic, sherd, vessel, Roman pottery, roman pottery, 65, report 65, Report 65, CCCAFU report 65
Subjects:
Geographical Areas > English Counties > Cambridgeshire
Period > UK Periods > Iron Age 800 BC - 43 AD
Period > UK Periods > Medieval 1066 - 1540 AD
Period > UK Periods > Post Medieval 1540 - 1901 AD
Period > UK Periods > Roman 43 - 410 AD
Depositing User:

Hamilton

Date Deposited:
11 Jul 2022 14:21
Last Modified:
11 Jul 2022 14:21
URI:
http://eprints.oxfordarchaeology.com/id/eprint/6415
Actions (login required)