Firth, Dan and Cox, Nicholas (2018) Leighton Linslade PH1 Mains Replacement Scheme WAT-06833. [Client Report] (Unpublished)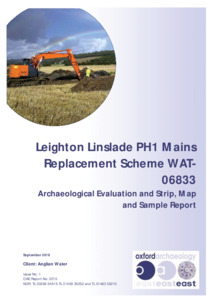 Preview
PDF




OAE_Report_2215_LR.pdf


Available under License Creative Commons Attribution Share Alike.
Download (2MB) | Preview
Abstract
Between 16th and 23rd May 2018 Oxford Archaeology East (OA East) was commissioned by Anglian Water to carry out trial trench evaluation along the route of the proposed Leighton Linslade PH1 Mains Replacement Scheme, within the parish of Steppingley, Bedfordshire. Following this, between the 19th and 23rd of July 2018, an area of 784m2 was subject to a Strip Map and Sample investigation where the trenching had identified a concentration of medieval features.
During the initial evaluation phase, twenty trenches measuring 25m x 2m were opened up along the route of the pipeline (TL 00256 34515 to TL 01459 35252), with a further four 10m x 2m trenches placed at the site of a proposed compound (TL 01463 35210). The evaluation revealed archaeological features and deposits in thirteen of the twenty-four trenches. Many of the features encountered were either natural features or furrows. A series of colluvial deposits were encountered in the central area of the pipeline route, whilst trenching at the northern end of the pipeline route revealed a number of probable furrows. However, a small number of features concentrated in Trench 12 yielded a significant assemblage of medieval pottery indicative of settlement of this period in the immediate vicinity.
Subsequent strip, map and sample excavation of the area surrounding Trench 12 revealed ditches or gullies and a number of pits, several of which produced quantities of medieval pottery The earlier extent of an existing pond was also identified. During the later medieval period this area of the pipeline route was within the enclosure of a large deer park, and the medieval remains described here are likely to attest to settlement pre-dating the park.
Item Type:
Client Report
Uncontrolled Keywords:
Bedfordshire, bedfordshire, Leighton Linslade, leighton linslade, Steppingley, steppingley, medieval, Medieval, Evaluation, evaluation, archaeological evaluation, Excavation, excavation, archaeological excavation, deer park, settlement, medieval settlement, medieval settlement activity, pottery, Pottery, pot, ceramic, vessel, sherd, medieval pottery, Medieval pottery, 2215, report 2215, Report 2215, OAE report 2215, furrow, furrows, ridge and furrow, pipeline
Subjects:
Geographical Areas > English Counties > Bedfordshire
Period > UK Periods > Medieval 1066 - 1540 AD
Divisions:
Oxford Archaeology East
Depositing User:

Hamilton

Date Deposited:
24 Aug 2022 11:17
Last Modified:
24 Aug 2022 11:17
URI:
http://eprints.oxfordarchaeology.com/id/eprint/6509
Actions (login required)