Cole, Edmund (2022) Earsham Quarry, Norfolk: Area 1. [Client Report] (Unpublished)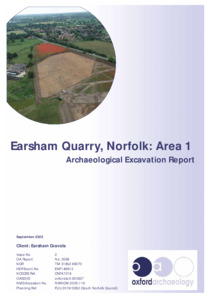 Preview
PDF




OAE_Report_2568_XNFEAR20EX_V2_LR.pdf


Available under License Creative Commons Attribution Share Alike.
Download (4MB) | Preview
Abstract
Between the 17th of May and the 25th of June 2021, Oxford Archaeology East (OA East) carried out an archaeological excavation at Earsham Quarry in Norfolk (TM 31862 89070). The stipulated excavation area, covering 1.97ha, was machine stripped to investigate archaeological remains previously recorded in an earlier phase of work at the site. The excavation revealed a multi-phased series of remains, mostly of prehistoric date.
Low-level Mesolithic and Neolithic activity of a probable transient, episodic nature was evidenced by a small assemblage of residually deposited struck flints. In the south of the excavated area, an isolated urned cremation burial of Early Bronze Age date was identified. This represented the earliest archaeological feature recorded and the only evidence of funerary activity from the site.
Part of a possible later Bronze Age ditched field system was uncovered, which consisted of four partially exposed enclosures. Surrounding the ditches that formed this field system were the remains of Middle to Late Iron Age peripheral settlement activity. This included pit and post hole clusters, substantial storage pits, along with beamslot and post-built structures, mostly centred on the higher ground in the north-west of the site.
A large quantity of pottery and fired clay was recovered from these Middle to Late Iron Age features, including two loomweights indicative of small-scale textile production. Due to the acidity of the soils, preservation of organic remains was particularly poor, with the limited ecofactual assemblages restricting the conclusions that could be drawn about the economic and environmental aspects of this phase of activity at the site.
The remains of a post-medieval pond were also identified, along with two field boundary ditches illustrated on 19th-century maps of the area.
Item Type:
Client Report
Uncontrolled Keywords:
Norfolk, norfolk, Earsham, earsham, Excavation, excavation, archaeological excavation, full report, Mesolithic, mesolithic, Neolithic, neolithic, lithics, lithic implement, flint, flints, worked flint, Mesolithic worked flint, Neolithic worked flint, Bronze Age, bronze age, Early Bronze Age, early bronze age, cremation, HSR, hsr, human remains, cremated human remains, Early Bronze Age cremation, Late Bronze Age, late bronze age, Late Bronze Age enclosure, enclosure, enclosure ditch, ditch, ditches, Iron Age, iron age, Middle Iron Age, middle iron age, Late Iron Age, late iron age, pottery, Pottery, pot, ceramic, sherd, vessel, Early Bronze Age pottery, early bronze age pottery, Iron Age pottery, iron age pottery, Middle Iron Age pottery, middle iron age pottery, Late Iron Age pottery, late iron age pottery, settlement activity, iron age settlement activity, pit, clusters, Iron Age settlement activity, storage pit, structure, structures, post-built structure, Iron Age post-built structure, beam slot, beamslot, post hole, posthole, Post-Medieval, post-medieval, Post Medieval, post medieval, pond, post-medieval pond, post-medieval ditch, 2568, report 2568, Report 2568, OAE report 2568
Subjects:
Geographical Areas > English Counties > Cambridgeshire
Period > UK Periods > Bronze Age 2500 - 700 BC > Early Bronze Age 2500 - 1500 BC
Period > UK Periods > Iron Age 800 BC - 43 AD
Period > UK Periods > Bronze Age 2500 - 700 BC > Late Bronze Age 1000 - 700 BC
Period > UK Periods > Iron Age 800 BC - 43 AD > Late Iron Age 100 BC - 43 AD
Period > UK Periods > Mesolithic 10,000 - 4,000 BC
Period > UK Periods > Iron Age 800 BC - 43 AD > Middle Iron Age 400 - 100 BC
Period > UK Periods > Neolithic 4000 - 2200 BC
Period > UK Periods > Post Medieval 1540 - 1901 AD
Divisions:
Oxford Archaeology East
Depositing User:

Hamilton

Date Deposited:
14 Sep 2022 11:08
Last Modified:
05 Jul 2023 07:00
URI:
http://eprints.oxfordarchaeology.com/id/eprint/6517
Actions (login required)