Fairbairn, James and Graham, Steven (2017) Lower Brook Street, Ipswich. [Client Report] (Unpublished)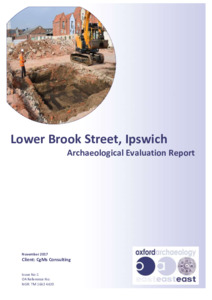 Preview
PDF




OAE Report2154_XSFLBS.pdf


Available under License Creative Commons Attribution Share Alike.
Download (14MB) | Preview
Abstract
Between the 25th of September and the 6th of October 2017, Oxford Archaeology East carried out Phase 2 of an archaeological evaluation at Lower Brook Street, Ipswich, Suffolk. The first phase was conducted in May 2016 and comprised two trenches excavated within the car park at the southern end of the site of what was then the East Anglian Daily Press.
The second phase of evaluation and the subject of this report comprised a further five trenches (numbered 3 to 7).
Trench 3 at the southern end of the site was located close to an area where an ornamental pond was thought to exist in the 18th century. Stratigraphy suggests that trench 3 was located close to this feature.
Trench 4 was located on an area recently occupied by the 1960s print works building. Trench 4 found evidence for massive stanchion blocks that were closely spaced and penetrated into the natural gravels more than 3m BGL.
These had caused widespread truncation and had disturbed archaeological deposits to such an extent little useful data could be retrieved.
Trench 5 revealed a possible former water course that was probably open in the mid Saxon through medieval periods. A silver coin of Athelstan and a lead plaque inscribed with runes was found in its fills. Overlying the extinct brook were layers or dumps of soil, possibly associated with a 17th to 18th century orchard and gardens. In the 19th century the area was built on by brick houses, the foundations of which survive.
Trench 6 revealed a Late Saxon feature, possibly a sunken featured building with posts and remnants of possible wooden planks and evidence for good survival of organic materials. Evidence for later layers/dumps of soil were found overlying it although later evidence had been removed by a 19th or 20th century brick cellar.
Trench 7 revealed a complex stratigraphy beginning with early medieval intercutting pits and a buried soil over which was a sequence of soil layers/dumps likely to date to the 17th/18th century. These were built on by a probable malt house in the late 17th century and the walls, yards and floors associated with it survive.
Item Type:
Client Report
Uncontrolled Keywords:
Suffolk, suffolk, Ipswich, ipswich, Evaluation, evaluation, archaeological evaluation, Early Medieval, early medieval, Medieval, medieval, Post-Medieval, post-medieval, Post Medieval, post medieval, pond, medieval pond, print works, printworks, modern print works, post-medieval orchard, post-medieval garden, Pottery, pottery, pot, ceramic, sherd, vessel, Early Medieval pottery, early medieval pottery, Medieval pottery, medieval, Post-Medieval pottery, post-medieval pottery, Post Medieval pottery, post medieval pottery, early medieval coin, coin, SFB, sfb, sunken featured building, sunken-featured building, grubenhaus, early medieval sunken-featured building, disc brooch, lead disc brooch, cellar, post-medieval cellar, building, structure, building foundation, post-medieval building foundation, 2154, report 2154, Report 2154, OAE report 2154
Subjects:
Geographical Areas > English Counties > Suffolk
Period > UK Periods > Early Medieval 410 - 1066 AD
Period > UK Periods > Medieval 1066 - 1540 AD
Period > UK Periods > Modern 1901 - present
Period > UK Periods > Post Medieval 1540 - 1901 AD
Divisions:
Oxford Archaeology East
Depositing User:

Hamilton

Date Deposited:
22 Sep 2022 08:14
Last Modified:
22 Sep 2022 08:14
URI:
http://eprints.oxfordarchaeology.com/id/eprint/6526
Actions (login required)