Lane, Andy (2006) LAND AT MELKINTHORPE, CUMBRIA Desk Based Assessment, Topographic Survey and Geophysical Survey. [Client Report] (Unpublished)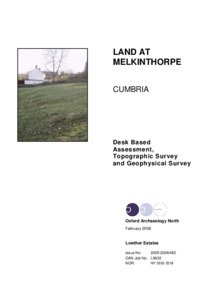 Preview
PDF




Melkinthorpe_Complete.pdf


Download (1MB) | Preview
Abstract
Oxford Archaeology North (OA North) was commissioned by John Turner of Lowther Estates to undertake a desk-based assessment, a topographical survey and a geophysical survey of a plot of land at Melkinthorpe, Cumbria (NY 5555 2518). The land is statutorily protected as a scheduled monument (SM 32822/01) and the work was required to inform a planning application and an application for Scheduled Monument Consent to enable the land to be adapted as a temporary parking area.
The documentary survey demonstrated that Melkinthorpe probably had its origins as a planned village in the twelfth century. It had a regular layout with back lanes on either side of a central green, and a series of compartments (containing former tofts) extending out from the green and cultivation strips pertaining to each of the tofts within open fields behind. The village subsequently, shrank leaving many of the former farm compartments unoccupied and recent work by Brian Roberts (1993) has demonstrated that the fossilised remains of the former crofts, and associated infrastructure, are preserved as earthworks within these still empty plots. The Ordnance Survey first edition map showed only a single north-east/south-west field boundary extending through the southern third of the plot.
The topographic survey recorded a long scarp slope (Site 53) that ran parallel to the line of the main street, and probably defined the edge of the former green. Above this were two artificial terraced platforms, which were both rectilinear in shape and were potentially building platforms (Areas A and B). Extending to the south-east of the southernmost platform (Area A) was an erratically preserved field boundary (F11/12) which was perpendicular to the line of the main street and corresponded to the boundary shown on the OS first edition map.
A geophysical survey using the resistivity method, was carried out over the whole of the development plot and located a number of anomalies which correlated with certain features recorded by the topographic survey, including an obvious trackway and the terraced platforms. The survey also detected three possible field boundaries, one of which was that shown on the OS first edition map. A substantial high resistance anomaly was found corresponding to the northernmost putative house platform and may reflect substantial deposits of stone below the surface. Features characteristic of embankments and terraces were visible in the survey data, as was a feature of unidentified provenance.
It was recommended that the proposed temporary parking be kept away by fencing from the principal earthworks (the putative house platforms and field boundaries) and that the areas of the geophysical anomalies be protected by building up the ground level with imported soil or aggregate.
Actions (login required)