Taylor, Karl (2011) St Silas' C of E Primary School, Clematis Street, Blackburn Lancashire Building Survey Report. [Client Report] (Unpublished)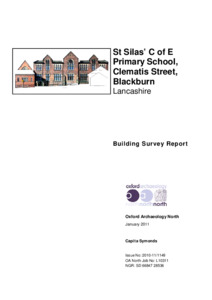 Preview
PDF




L10311_StSilasFullReport.pdf


Download (12MB) | Preview
Abstract
A proposal to redevelop St Silas' Primary School, Clematis Street, Blackburn, Lancashire (NGR SD 6684 2853), will entail the demolition of the existing late nineteenth century school buildings and the construction of a new replacement school building. OA North (2010) undertook a desk-based assessment of the school, which highlighted the architectural importance of the building, and, in the light of that, Lancashire County Archaeology Service (LCAS) requested that an English Heritage Level 3 building investigation be undertaken of the building prior to its demolition; the present report outlines the results of the building investigation survey which was
undertaken in November 2010. The survey entailed the production of plans of the lower ground, upper ground and
first floors, which entailed the enhancement of existing drawings provided by the client. The principal north-west and south-east external elevations of the main school
building were surveyed by rectified photography and were, subsequently, combined and corrected using photoplan software. A cross-section was produced extending
through the main school hall showing ornate hammer beam truss construction. A descriptive and detailed photographic archive was compiled. The construction of the current St Silas' School, along with many others in the
country, can be traced back to the Education Act of 1870, when school attendance started to become compulsory and, subsequently, was free for all children between the
ages of five and twelve years of age (OA North 2010). The school was opened in 1885, apparently as a single-storey structure, subsequently a first floor was added to
the main school building, and in 1896 a new wing was added.
The school now consists of various wings and extensions of various dates and styles, with the central block on the ground floor forming the core of the original building. At
some date, probably shortly after its original construction, an additional storey was added to the school. It is probable that the rear and gable elevations were rebuilt at the
same time as the upper storey was added, as the entirety of these walls are of the same brick construction.
The historic description of the new wing which was added in 1896 closely matches with the observed main hall at the southern end of the building; this, along with two
new class rooms (Rooms 1 and 2), formed a whole and essentially independent wing, as the access was kept separate from the rest of the school. A plan dated to 1904
shows the layout of the school in its ultimate form and illustrates the internal layout of all the floors, which also matches the footprint of the building as illustrated on the 1911 Ordnance Survey Plan. Rooms 13, 14, 15 and 16 were probably added in the 1950s during alteration works
when the children were relocated; a new wing was added to Room 11 in 2006 and two new classrooms (Rooms 21 and 22) were added in 2008.
Actions (login required)