Zant, John (2013) THE DISTRIBUTION OF WATERLOGGED DEPOSITS IN CARLISLE Statement of Significance. [Client Report] (Unpublished)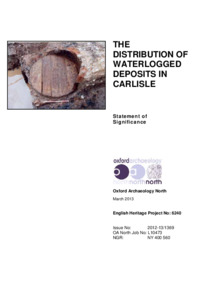 Preview
PDF




L10473_Stateofsignif complete.pdf


Download (2MB) | Preview
Abstract
As part of the National Heritage Protection Plan, English Heritage defined a project relating to the distribution and significance of waterlogged urban deposits, and the historic city of Carlisle, Cumbria (NY 400 560) was chosen for such a study because of its very considerable potential for waterlogged deposits. The study area comprised Carlisle's historic core, within the city's medieval defences, and the modern suburb of Stanwix, the site of the largest fort on Hadrian's Wall, augmented by a 50m-wide buffer zone. The study was undertaken by Oxford Archaeology North in 2012.
The aim of the project was to utilise existing information in order to understand better the significance, character and extent of waterlogged archaeological deposits, and their potential vulnerability to future development. A review of palaeoenvironmental evidence was also undertaken. Relevant data from over 260 archaeological interventions within the study area were recorded on an Access database. This information, together with modern contour and lithological data, was used to produce a predictive GIS model to map the spatial distribution of deposits and buried topography across the study area, and to generate thickness plots. The data and the predictive model were used as a starting point for an ongoing assessment of possible future threats to Carlisle's buried waterlogged remains, in order to permit informed decisions to be made regarding long-term management and protection.
Subsequently, English Heritage requested a Statement of Significance (Project Number 6240) for Carlisle's waterlogged archaeological resource, as part of a series being produced. This was completed in March 2013.
Actions (login required)