Wearing, Neil (2003) UPLANDS INITIATIVE FIELD PROJECTS 2002-3, Ruabon Mountain Survey Area, North Wales Archaeological Survey Report. [Client Report] (Unpublished)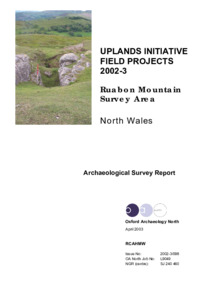 Preview
PDF




completereport.pdf


Download (1MB) | Preview
Abstract
An archaeological identification survey of the Ruabon Mountain area of North Wales (SJ 240 460 centred) was undertaken in June 2002. The work was undertaken by Oxford Archaeology North (OA North) on behalf of the Royal Commission on the Ancient and Historical Monuments of
Wales (RCAHMW) as part of the Uplands Initiative. The fieldwork consisted of an identification survey to identify, locate and describe archaeological and historical features within the defined survey area.
The Ruabon study area incorporates Historic Landscape 40 (Countryside Council for Wales 2003), and part of the study area has been previously surveyed by Clywd Powys archaeological Trust. The OA North 2002 survey area comprised c32 sqkm, encompassing enclosed and improved
agricultural land as well as large open tracts of heather moorland. The study area is a major massif edged by substantial limestone crags; it is bounded to the north by Minera, to the east by the communities of Pen-y-Cae and Esclusham, and to the west by the Llandegla Plantation and the community of Llantysillio. The majority of the area is unimproved moorland which has been used as a grouse moor for the last two hundred years allowing for the survival of predominantly heather ground cover, which overlies peat deposits. The extent of the peat cover means that early archaeological remains are for the most part around the edges of the study area, where there are only limited peat deposits, whereas post-medieval remains are scattered over the whole study area. The earliest remains identified by the survey were funerary round cairns that typically date from the Bronze Age and were for the most part to be found on the limestone crags. With the exception of a single hafod structure, which may have medieval origins, the lostprehistoric sites are all of post-medieval date and relate to pastoral agricultural activity, lime burning and lead working. The lead working is focussed within the northernmost part of the study area, and was part of a major nineteenth century North Wales lead industry, which had declined and finally closed in 1914. The lead working landscapes included shafts, processing areas, a smelter near New Brighton, and a communications infrastructure which linked the individual sites. A total of 140 new sites were identified in addition to 76 sites already known. The new sites included 16 cairns, 9 farmsteads, 1 hafod, 14 field boundaries, 6 limekilns, over 25 post-medieval quarries, 16 trackways and 23 mine shafts. There is a need for further recording of the Bronze Age funerary monuments and the important lead mining and processing landscapes on the northern side of the study area.
Actions (login required)