Weigel, Becky (2022) Poverty Lane, Maghull, Sefton, Archaeological Evaluation and Strip, Map and Sample Excavation Report. [Client Report] (Unpublished)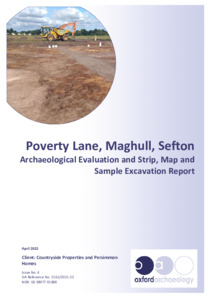 Preview
PDF




L11373_Poverty_Lane_Maghul_Sefton_v4_Combined.pdf


Download (14MB) | Preview
Abstract
In July 2021 Oxford Archaeology (OA) North was commissioned by Pegasus Group, on behalf of Countryside Properties and Persimmon Homes, to undertake an archaeological evaluation and strip, map, and sample excavation in advance of a
proposed residential development at Poverty Lane, Maghull, Sefton, Merseyside. The work was informed by a desk‐based assessment completed by CgMs and a geophysical survey undertaken by Sumo Geophysics. The potential for archaeological remains across the proposed development area was deemed generally low, although there was higher potential for post‐Medieval remains associated with a former dwelling off Poverty Lane and an area labelled Brick Kiln Close on historic mapping, as well as potential for possible early Prehistoric activity identified by geophysics to the north of the site. A scheme of trial trench evaluation and targeted strip, map, and sample investigation was therefore proposed by Pegasus Group, in order to evaluate and
mitigate the archaeological potential of the site; the fieldwork was undertaken by OA North over 9 weeks from July to September 2021.
The fieldwork was undertaken in order to discharge a planning condition imposed by the Merseyside Environmental Advisory Service (MEAS) at appeal. The proposed field
work had two components, trial trench evaluation would target anomalies identified by the geophysical survey, and sampling 'blank' areas of the site, while two areas of strip, map, and sample excavation were undertaken, targeting the former location of eighteenth‐century dwelling identified off Poverty Lane, and a geophysical anomaly
recorded in the former Brick Kiln Close area, postulated to potentially represent the location of a kiln. Subsequent mitigation, where potentially significant archaeology was
identified, was to be undertaken concurrently.
The trial trenching identified that the linear geophysical anomalies were mostly boundary ditches and post‐medieval farming features, such as field drains and plough
furrows. There were several larger, deep pit features, including that observed in the strip, map, and sample Area B, which were interpreted as possible extraction pits,
possibly associated with the presence of a kiln somewhere in the vicinity of Brick Kiln Close, although this feature was never identified. Finds included post‐medieval pottery
and modern plastic and were not retained. Across many of the trenches, a windblown sand deposit was observed, into which the post‐medieval boundary ditches had been cut. The sand in some places sealed a putative buried soil which was thought to be potentially medieval or earlier in date, but this could not be subsequently substantiated by the environmental evidence. Area A targeting the dwelling on Poverty Lane was not excavated due to the presence of services found to be crossing the area.
A number of discrete features were observed in Trench 4, situated to the north of the and pits appeared to form linear trends. Following consultation with the Pegasus Group
consultant and the MEAS archaeologist, the trench was expended, revealing further possible posthole‐type features and a large pit. In addition, four further trenches were
excavated at evenly spaced intervals to the north‐west in order to assess the potential extent of these discrete features. Following further consultation with all parties a larger area incorporating all such trenches was subject to strip, map and sample (Area C).
Stripping of this area revealed an array of further discrete and large irregular linear features. However, sample excavation of these features identified that the majority
were natural in origin, and included tree rooting and potential palaeochannels, Poverty Lane, Maghull, Sefton 4
©Oxford Archaeology Ltd viii 21 April 2022 interspersed with a number of posthole and large pit features. More detailed
examination of these features suggested that all discrete features were likely associated with tree‐planting possibly to establish an orchard and perhaps associated
with the creation of the farmstead.
Actions (login required)