Parker, Aidan (2021) Land at Liverpool Road, Formby, Metal Detecting Survey. [Client Report] (Unpublished)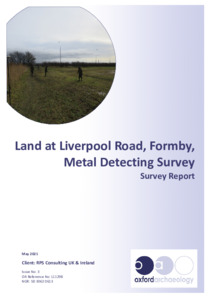 Preview
PDF




L11298_Formby_Metal_Detecting_Report_V5_Combined.pdf


Download (8MB) | Preview
Abstract
Oxford Archaeology (OA) North were commissioned by Pete Owen of RPS Consulting UK & Ireland, acting on behalf of Barrett Homes Ltd, to undertake a metal detecting survey on land adjacent to Liverpool Road, Formby. Assisted by members of the West Kirby Metal Detecting Club (WKMDC) during the first
phase of works, the survey of the northern half of the site was undertaken over five days between 24th and 28th of February 2020. The southern half of the survey area was then unavailable and the onset of the Covid‐19 pandemic further halted progress and meant that members of the WKMDC could not attend for health and safety reasons. At the request of RPS, survey of the southern half of the area was undertaken later in the year, over a period of five days between the 1st and 5th of June, and entirely staffed by OA North.
The survey was undertaken as a condition of planning permission prior to the site's development. In total, eight hundred and sixty‐one finds were recovered spanning a range of objects and materials. While some interesting finds were
recovered during both phases of survey, the greater quantity were recovered from the northern half of the site. The assemblage comprised a number of coins, including some of foreign prevenance, although the majority represents
a range of mundane utilitarian household or agricultural items. The majority can be attributed to a relatively late post‐medieval to modern date range. Based upon these results, there is little evidence for significant historical
occupation of the site until recent times and the majority, if not all finds can be attributed to a combination of probable accidental loss and generalised agricultural activity, perhaps involving manuring of fields using 'night soil', a process known in Merseyside as 'shoddying', rather than focused deposition within previously unknown buried features. This report presents the results of the survey and an assessment of the more noteworthy finds.
Actions (login required)