Sparks, Lee and Mumford, James and Howsam, Charlotte Oxfordshire Garden Village, Eynsham, Oxfordshire. [Client Report] (Unpublished)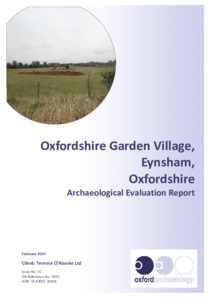 Preview
PDF




EYCV19.pdf


Download (7MB) | Preview
Abstract
Oxford Archaeology carried out an archaeological evaluation on the site of the
proposed Oxfordshire Garden Village housing development, north of
Eynsham, Oxfordshire, between September 2019 and January 2020. The
fieldwork was commissioned by Terence O'Rourke Ltd, on behalf of Grosvenor
Development Ltd.
A preceding geophysical survey undertaken in 2019 detected a range of
anomalies of possible or probable archaeological origin, including two
circular/curvilinear anomalies suggestive of ring ditches and a series of linear
anomalies interpreted as a series of enclosures or sub-enclosures. The
geophysical survey results also reflect variations in the natural geology and
medieval/post-medieval to modern agricultural land use.
A total of 93 trenches were investigated across five areas of the proposed
development site, some of which were targeted upon selected geophysical
anomalies interpreted as being of possible archaeological origin. Of these, 22
trenches were found to contain archaeological remains of pre-modern date
generally comprising ditches, pits and postholes. A relatively high degree of
correlation between the results of the geophysical survey and archaeological
evaluation was demonstrated.
A ring ditch in the north of Area 4 may have been of early Bronze Age date,
and the remains of a possible associated bank and buried topsoil were also
identified. A second ring ditch excavated further to the south-east in Area 6
may have been of similar date, though only Iron Age pottery was recovered
from the feature. It is possible that the ring ditches represented the remains
of Bronze Age barrows that continued to occupy the landscape into the Iron
Age.
Evidence of more intensive prehistoric land use activity on site is dated to the
Iron Age, with a notable concentration of inter-cutting ditches suggestive of
agricultural activity revealed in the centre of Area 4. A number of undated
features in the same area of the site may be indicative of related Iron Age
activity.
In the south of Area 3, the remains of a series of ditches and a few pits were
recorded providing evidence of an enclosure system that extended further
southwards as the geophysical survey results suggested. The pottery, animal
bone and fired clay assemblages, together with the charred plant remains, are
suggestive of a small-scale Romano-British rural settlement.
Limited medieval/post-medieval to modern remains, mostly comprising
evidence of ridge and furrow and land drains crossing the site, are
demonstrative of a continued agricultural use of the landscape during these
periods.
Actions (login required)