Cox, Nicholas (2022) Land adjacent to 43 Mepal Road, Sutton, Cambridgeshire. [Client Report] (Unpublished)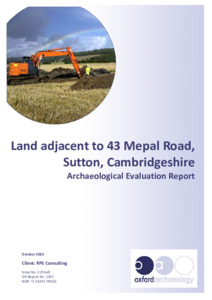 Preview
PDF




OAE_SUTMEP22_Report_2601_V4_final_LR.pdf


Available under License Creative Commons Attribution Share Alike.
Download (10MB) | Preview
Abstract
Between 30th May and 23rd June 2022 Oxford Archaeology East carried out a trial trench evaluation on land to the west of 43 Mepal Road, Sutton in Cambridgeshire. A total of 68 trenches were excavated across the proposed development area.
Archaeological remains were recorded across 40 of the investigated trenches. A probable Middle to Late Bronze Age ring ditch with associated pits and post holes was identified in the eastern part of the site, as was a pair of probable Iron Age pits. A cluster of undated post holes was also located near to these features.
Three undated inhumation burials aligned east to west (which were not excavated) were also exposed in the same area.
A medieval to post‐medieval field system including boundary ditches and evidence of ridge and furrow was present across the investigation area. A large area of gravel extraction pits of probable post‐medieval date was located on the eastern edge of the evaluation.
Along the northern edge of the site was an area of modern truncation as well as a drainage ditch that probably relate to the former RAF Mepal.
The finds from the site include a small amount of Middle to Late Bronze Age pottery and an Iron Age loomweight, along with a larger assemblage of post-medieval material including pottery, CBM, clay tobacco pipes and glass. A small quantity of animal bone was also recovered from the site. Little ecofactual material was recovered from the environmental samples, suggesting a poor degree of organic preservation.
Item Type:
Client Report
Uncontrolled Keywords:
Essex, essex, Uttlesford, uttlesford, Evaluation, evaluation, archaeological evaluation, Bronze Age, bronze age, Iron Age, iron age, Medieval, medieval, Post-Medieval, post-medieval, Post Medieval, post medieval, Modern, modern, Pottery, pottery, pot, ceramic, sherd, vessel, Bronze Age pottery, bronze age pottery, Post-Medieval pottery, post-medieval pottery, Post Medieval pottery, post medieval pottery, loomweight, loom weight, Iron Age loomweight, iron age loomweight, Iron Age loom weight, iron age loom weight, medieval field system, post-medieval field system, field system, ring ditch, ditch, Bronze Age ring ditch, pit, pits, Iron Age pit, RAF Mepal, drainage ditch, HSR, hsr, human remains, unexcavated human remains, inhumation burial, ridge and furrow, furrows, 2601, report 2601, Report 2601, OAE report 2601
Subjects:
Geographical Areas > English Counties > Cambridgeshire
Period > UK Periods > Bronze Age 2500 - 700 BC
Period > UK Periods > Iron Age 800 BC - 43 AD
Period > UK Periods > Bronze Age 2500 - 700 BC > Late Bronze Age 1000 - 700 BC
Period > UK Periods > Medieval 1066 - 1540 AD
Period > UK Periods > Bronze Age 2500 - 700 BC > Middle Bronze Age 1600 - 1,000 BC
Period > UK Periods > Modern 1901 - present
Period > UK Periods > Post Medieval 1540 - 1901 AD
Divisions:
Oxford Archaeology East
Depositing User:

Hamilton

Date Deposited:
13 Oct 2022 09:23
Last Modified:
13 Oct 2022 09:23
URI:
http://eprints.oxfordarchaeology.com/id/eprint/6588
Actions (login required)