Clark, Paul and Wearing, Neil (2003) STANDINGSTONES, WIGTON, Cumbria Archaeological Assessment and Evaluation. [Client Report] (Unpublished)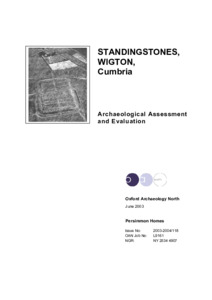 Preview
PDF




Wigtoncomplete.pdf


Download (1MB) | Preview
Abstract
Oxford Archaeology North undertook an archaeological assessment and evaluation of a proposed residential development site at Standingstone, Wigton, Cumbria (centred at NY 2534 4907), on behalf of Persimmon Homes. The archaeological assessment consisted of a desk-based study, carried out in December 2002, and a walk-over survey, undertaken on 13th January 2003. The evaluation was undertaken between 13th and 17th January. The site is located to the east of a suggested route of a Roman road running between the Roman forts of Old Carlisle and Bowness on Solway. The fort of Old Carlisle appears to be a hub for extra-mural settlement (Higham and Jones 1975), and it may be possible that this extended north as a series of roadside settlements. Recent work, which focused on the area c1.5km to the north of the fort, revealed a series of boundary ditches of Roman date, and included the retrieval of fourth century pottery (CAU 2000). The Sites and Monuments Record lists an enclosure of Iron Age or Romano-British type in
a field 400m immediately to the north of the development area. In addition, the assessment showed that the area of Standingstone may have not undergone medieval field system
development; therefore, there is good potential survival for any subsurface remains predating the medieval period.
The majority of the sites that were identified by the desk-based study will not be affected by the proposed development. The walk-over survey did not identify any additional archaeological sites not already covered by the desk-based study. The evaluation trenching consisted of 22 20m x 1.7m trenches. The initial trenching was carried out by a mechanical excavator equipped with a ditching bucket, with further cleaning and excavation carried out by hand. The trenches revealed a very low concentration of archaeological features, with evidence for a ditch terminus in the southwest corner of the site, an isolated posthole, a relatively recent pit and a probable gully. No artefacts were recovered from any of these features, which prevented them from being dated. Given the low density of archaeological remains, of which none were confirmed as being archaeologically significant, it is recommended that the site does not warrant mitigation recording. However, given the finding of a ditch terminus in the south western most corner of the study area it may be pertinent to have a watching brief during any ground disturbance in this part of the site.
Actions (login required)