Quartermaine, Jamie (2000) LOWER VIADUCT ESTATE CARLISLE Cumbria Assessment Report. [Client Report] (Unpublished)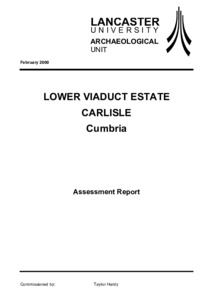 Preview
PDF




completereport2000.pdf


Download (11MB) | Preview
Abstract
An archaeological assessment of land at Lower Viaduct Estate, Carlisle (NY 3995 5560) was undertaken by Lancaster University Archaeological Unit, and was commissioned by
Taylor and Hardy on behalf of Lowther Manelli Properties Limited. It was undertaken in order to inform a planning application for a superstore development and was carried out in December 1999 and January 2000. The study area is located against the eastern bank of the River Caldew, and is to the west of the medieval town of Carlisle, which stands on a
promontory above it. This report presents the results of a documentary study, as a preliminary to the implementation of an evaluation by trial trenching of the site. The documentary survey involved an examination of historic maps and plans, and secondary (published) sources.
The results of the documentary study suggest that prior to the nineteenth century the study area was unoccupied, being outside the Roman and medieval towns; it was low-lying,
poorly drained ground and possibly served as water meadows. In the mid-nineteenth century the main railway line was constructed immediately to its north, and at the end of
that century railway sidings and associated buildings occupied the study area. The sidings fell out of use in the twentieth century and the site is currently occupied by a car showroom and council offices. Although the assessment has not identified a significant archaeological resource within the study area, this is based purely on documentary sources. There is a potential that subsurface remains exist, possibly reflecting rural activity, and it is recommended that a limited number of trial trenches be excavated to examine the sub-surface stratigraphy.
Actions (login required)