Quartermaine, Jamie (2000) RAVENGLASS FORT CUMBRIA Watching Brief Report. [Client Report] (Unpublished)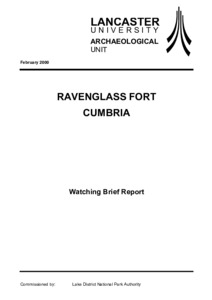 Preview
PDF




completereport2000.pdf


Download (4MB) | Preview
Abstract
Lancaster University Archaeological Unit (LUAU) undertook a watching brief during a period of vegetation clearance on the site of the Roman fort at Ravenglass (NGR SD 088958) in October 1999, which is designated as a Scheduled Ancient Monument (SAM 268). The work was undertaken in accordance with a methodology prepared by LUAU in response to a verbal brief from the Lake District National Park Authority.
The watching brief was undertaken after the felling of trees on the main part of the fort and to the east of the railway, prior to being grassed over. The work consisted of recording the location of wind blown trees and the associated disturbance, and was achieved using a Global Positioning
System (GPS). Each of the disturbances was then recorded and evaluated with particular attention paid to any finds or elements of the fort which may have been exposed.
In total 17 tree stumps and hollows on the site were looked at, along with several possible areas of archaeology, and an area of Victorian building material. The study resulted in a catalogue and showed the locations of areas where the archaeology of the underlying fort may have been compromised; as such it provides a baseline for documenting any denudation of the site and its state of preservation in the future.
Actions (login required)