Quartermaine, Jamie (2000) MONTGOMERY THERMOSTATS POWYS Assessment Report. [Client Report] (Unpublished)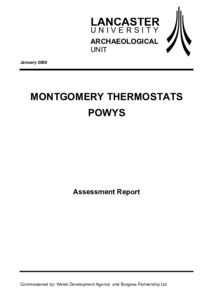 Preview
PDF




completereport.pdf


Download (8MB) | Preview
Abstract
This report describes the findings of an archaeological survey and research undertaken for a proposed development site centred on SO 2230 9725, immediately north of the walled town of Montgomery or Trefaldwyn, Montgomeryshire. This work was undertaken on behalf of the Burgess Partnership Limited for the Welsh Development Agency, who propose to build on the land and were required to commission archaeological evaluation in accordance with
planning regulations. An archaeological survey, including topographic survey and photographic recording, was
undertaken in December 1999. Documentary research was also undertaken, to examine maps, aerial photographs and other documents which might elucidate past developments on
the site. A metal detection survey was undertaken in January 2000, and vista analysis of the visual impact of the proposed development has been undertaken on the basis of computer enhanced photographs of the study area incorporating a model of the proposed new-build. The survey found traces of former agricultural use, in the form of ridge and furrow plough patterns and former field boundaries which predate the nineteenth century. The field may
also have been one of those on which the Royalist battle line was drawn up during the Battle of Montgomery in 1644, and the metal detector survey identified a series of musket balls, which may be an indication that the battle or skirmishing took place at the site. The surface remains relate to medieval/post-medieval agriculture activity and are of only local importance; however, the presence of musket balls, in conjunction with documentary
evidence locating the Royalist lines of the Battle of Montgomery across the study area, would indicate that this was a potentially significant part of the wider battlefield landscape, and as such is of regional importance.
On the basis of the vista analysis, it would appear that the proposed development will impair the visual outlook from selected viewpoints, notably from Montgomery Castle and the town. The development site lies in a low-lying valley overlooked by scheduled monuments at Montgomery, Hen Domen and Fridd Falwyn, and by the Offa's Dyke National Trail and the factory buildings will have a moderate visual impact in an area that is not significantly affected by commercial development.
Actions (login required)