Durham, Brian (1993) ST JULIAN'S FRIARS, SHREWSBURY. [Client Report] (Unpublished)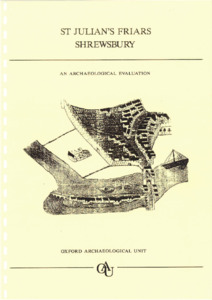 Preview
PDF




SJF_93.pdfA.pdf


Download (6MB) | Preview
Abstract
Summary: An archaeological evaluation of a proposed development centred on the St Julian's Friars area of Shrewsbury went some way to defining rhe limits of the medieval Greyfriars precinct, which seems to have lain immediately outside the town wall, with a ditch or moat between. The friary was evidently built on a man-made platform which was protected from erosion on the riverside by a massive stone wall; a similar though possibly later river wall was found downstream towards the brìdge. It is unclear whether the line of this terracing was continuous however, because archaeolagical and documentary
evidence suggests that this area may have been part of a medieval island separated from the friars' site and from the town, and possibly the site of 13th-century wharfage.
The results are discussed in the light of theìr importance to Shrewsbury and medieval towns generally.
Actions (login required)