Quartermaine, Jamie (2001) SCOTCH STREET, CARLISLE CUMBRIA Assessment Report. [Client Report] (Unpublished)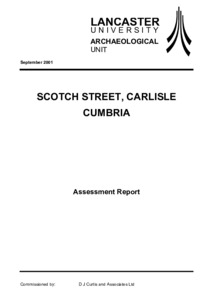 Preview
PDF




completereport.pdf


Download (11MB) | Preview
Abstract
Following a request by Morris Clayton of DJ Curtis and Associates Ltd, Lancaster University Archaeological Unit (LUAU) undertook a desk-based assessment of a proposed retail and office development area at 42-48 Scotch Street, Carlisle (NGR NY 404 553) in August 2001.
The site lies at the heart of medieval and Roman Carlisle, upon one of the main arterial routes into and out of the city, and has the potential to incorporate significant sub-surface archaeological remains.
The assessment highlighted the wealth of archaeological evidence, retrieved by excavation, for areas immediately adjacent to the site, and this would indicate that the site is likely to preserve archaeological evidence within its boundaries. A putative Roman bath-house or mansio was
suggested by the finding of a hypocaust immediately adjacent to the north-west of the development site; there is a likelihood that part of such a structure or associated buildings extends within the present site. Rich waterlogged deposits and environmental evidence have been recovered from nearby excavations and there is a likelihood that similar remains will be found within the present site. Furthermore, the buildings on the northern part of the site are of
Listed Grade II status, and will thus be subject to planning controls. While the identification of surviving archaeological deposits in the adjacent areas highlights
the potential for archaeological deposits within the study area, it does not prove that such deposits survive within the study area; in particular there is some possibility that cellaring will have removed any archaeological deposits. An investigation was therefore undertaken to identify evidence for below ground disturbance; this examined cellar plans and borehole evidence and established that a substantial part of the development area, comprising 210sqm, was cellared, and that archaeological deposits are unlikely to be preserved in this area. The remaining 680sqm of the site, however, had no evidence of cellaring. It is recommended therefore that a programme of evaluation trenching be undertaken to investigate the below ground survival of archaeological remains. The listed buildings should also be recorded to at least RCHME Level 2 standard.
Actions (login required)