Hughes, Vix Cumbria College of Art and Design, Carlisle, Cumbria Archaeological Watching Brief. [Client Report] (Unpublished)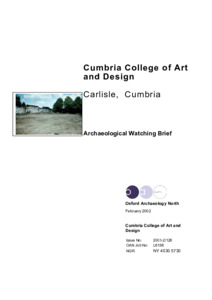 Preview
PDF




Completereport.pdf


Download (2MB) | Preview
Abstract
An archaeological watching brief was carried out in July 2001 within the walled garden at Cumbria College of Art and Design, Carlisle (NY 4030 5730). This work followed on
from Phase 5 of a programme of archaeological work, being carried out for the college jointly by Oxford Archaeology North (OAN), formerly Lancaster University
Archaeological Unit (LUAU), and Newcastle University's Archaeological Practice, in accordance with a brief set by the Development Control Officer of Cumbria County
Council.
The College is situated in an area which has been identified as being of high archaeological importance (County Sites and Monuments Record 5782, Scheduled Monument 28484). The main College building is situated between the line of Hadrian's
Wall and the probable course of the associated Vallum, c200m to the south-east of the Wall. It is also only approximately 60m north-east of the north-eastern defences of the
Roman fort of Stanwix, the largest fort on Hadrian's Wall.
The watching brief followed on from an evaluation undertaken within the garden by OAN, which identified a large 'V'-shaped ditch running north/south, parallel and adjacent
to the east side of the fort at Stanwix; it was believed that this may have been a Roman military ditch relating to the fort.
It was a requirement of the Scheduled Monument Consent that the development should cause as little disturbance to the underlying archaeological deposits as was feasible, and
therefore the watching brief involved the recording of what were relatively superficial interventions. The work initially consisted of the observation of topsoil stripping to a depth of 0.3m across the entire site. This revealed the walls of earlier greenhouses along the north-west wall, a brick and sandstone structure half way along the south-west side, and the remains of a sandstone wall aligned north-east/south-west in the southern part of the site. The second part of the work involved the monitoring of groundworks for the
insertion of two ducts, five drainage trenches, and seven water storage gullies. No significant archaeological features were recorded within these interventions and the only features present were recent drains and services which truncated the natural subsoils and underlying drift geology. No evidence of the possible Roman military ditch found in the earlier evaluation within the western part of the garden was seen, mainly as a result of the positioning of the trenches.
The results demonstrate that no archaeology of any significance was disturbed by the development and that the Roman archaeological deposits, identified by the earlier
evaluation, will be preserved in situ.
Actions (login required)