Heawood, R. (2002) Land at Melkinthorpe,Cumbria Archaeological Watching Brief. [Client Report] (Unpublished)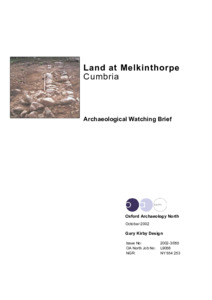 Preview
PDF




complerereport.pdf


Download (1MB) | Preview
Abstract
In April and May 2002, Oxford Archaeology North undertook an archaeological watching brief of a building plot within the village of Melkinthorpe, Cumbria (NY 554 253). The watching brief was conducted at the request of Gary Kirby, of Gary Kirby Design, and was commissioned on the advice of the Cumbria County Archaeology Service and English Heritage, in accordance with the requirements of a grant of Scheduled Monument Consent. The watching brief was conducted during the excavation of footings for a single residential
dwelling. The subject site, an area of less than 0.1ha fronting the north-east side of the village street,
was under pasture when the project was commenced. The site lies within the bounds of a Scheduled Monument (SM 32822/01), which includes an area of earthworks close to the
street frontage, with broad ridge and furrow behind. This followed on from an earlier archaeological investigation of the site undertaken in January 2000, when two small
evaluation trenches were excavated, one in the present building plot, one immediately to the south-east. No explicit evidence for structural features was recovered during this earlier phase of works.
The present watching brief revealed three stone foundations, probably indicative of the former presence of either one or two substantial stone buildings. An extensive spread of
cobbles was also observed, and was interpreted as representing either an internal floor surface, or demolition debris. Given that the observations were made under watching brief conditions, and that controlled excavation was not possible, the stratigraphic relationships between the various remains and deposits were not established. Although sherds of postmedieval/modern pottery were recovered, these may derive from during or after demolition of the structures, and, consequently, the recorded masonry structures cannot be reliably dated on this evidence. The watching brief has demonstrated that significant structural
features existed close to the street frontage within this building plot, and suggests that similar features may exist elsewhere within Melkinthorpe.
Actions (login required)