Quartermaine, Jamie (1999) 44 AND 52 CHURCH STREET, LANCASTER, LANCASHIRE Watching Brief Report. [Client Report] (Unpublished)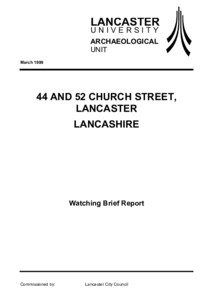 Preview
PDF




completereport.pdf


Download (1MB) | Preview
Abstract
A watching brief was undertaken in February 1999 by Lancaster University Archaeological Unit (LUAU), on behalf of Lancaster City Council, in the course of a pedestrianisation development in Church Street, Lancaster (NGR SD 4765 6184). The watching brief examined the cellars of 44 and 52 Church Street, which had been exposed
as a result of the development; the work was undertaken in accordance with a verbal brief by the Lancashire County Archaeological Service.
The survey involved the generation of structural plans for both cellars and was undertaken in conjunction with an oblique photographic survey of the affected elements of the cellar and associated basements.
The cellar of 44 Church Street projecting south-west beyond the facade of the main building, comprised a stone vaulted chamber, 3.18m x 3.10m in size. The doorway into the cellar, through the main building facade, has at least two phases of construction, and the base of the present door is 0.53m below that of an earlier phase of doorway. The top of the original doorway is set above the crown of the cellar vault, and pre-dates the construction of the cellar. The base of the earlier doorway is only 1m below the present
street level and it is probable that this was the door to an original undercroft, which was subsequently deepened with the construction of the vaulted cellar. The doorway was part
of what appears to be a late seventeenth or early eighteenth century building, and the vaulted cellar was clearly a later addition.
The cellar of 52 Church Street was rectangular in shape and projected 1.55m into the street out from the principal facade of the building. The cellar doorway incorporates long
and short quoining, made up of large tabular stone blocks. The roof of the cellar comprised three large flagstones, which had been fitted closely together. Although the cellar walls are keyed into the principal facade of the building, the overall form of construction would indicate that the cellar post-dates the building of the basement wall.
Actions (login required)