Wearing, Neil (2007) Gisburne Park, Lancashire Walled Garden Assessment. [Client Report] (Unpublished)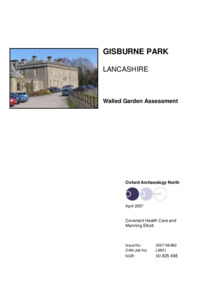 Preview
PDF




L9831_Gisburne_Park_Walled_Garden_Assessment.pdf


Download (33MB) | Preview
Abstract
Oxford Archaeology North (OA North) was commissioned by Covenant Health Care, in conjunction with Manning Elliott Architects, to undertake an archaeological assessment of a walled garden at Gisburne Park (SD 825498), in advance of the construction of a proposed hospital extension. Gisburne Hall was built by the Lister family between 1727 and 1736, it was finally sold off in 1944 and in 1995 the building was converted into an independent private hospital. The documentary study was undertaken between 13th and 16th March, and the site investigation was undertaken on 21st March.
The earliest gardens were established at the same time as the house and incorporated two areas of formal garden to the north and east of the house. By the time of the White plan of 1812, this had been superseded by a walled garden to the west of the house, which had formal areas and horticultural areas. The walled garden was split up in 1944 and parts of it have been subsequently heavily landscaped.
The site investigation revealed that much of the external walling has been lost, and now only c46% survives. Of the 14 buildings / structures associated with the garden that were shown on mapping from a 1909 plan, only four still survive today and this includes the head gardener's cottage. None of the soft landscaping elements, such as the footpaths or beds, still survive, and only three of the original trees have survived, in the south-eastern corner of the garden. Although, some elements survive, the overall character and layout of the garden has largely been lost.
The proposed hospital section will entail the loss of a further section of garden walling, and also the head gardener's cottage. It is recommended that a fabric survey of the cottage and a photographic survey of the adjacent section of garden wall be undertaken in advance of their
demolition for the development.
Actions (login required)