Hughes, Vix and Lee, Anthony (2003) Land Adjacent to Cross Keys Yard, Milnthorpe, Cumbria. Archaeological Assessment and Watching Brief. [Client Report] (Unpublished)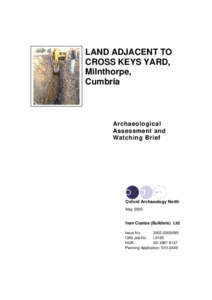 Preview
PDF




L9185_Land_Adjacent_To_Cross_Keys_Yard.pdf


Download (13MB) | Preview
Abstract
Following a request by Mr Ivan Coates of Ivan Coates (Builders) Ltd, Oxford Archaeology North (OA North) undertook a desk-based assessment and watching brief of an area outlined for a proposed dwelling and garage on the land adjacent to the Cross Keys Yard, Milnthorpe (SD 4961 8147), in February 2003. The site was close to the probable centre of medieval Milnthorpe, near the market place and along the main routes through the town and, therefore, had the potential to incorporate significant subsurface archaeological remains relating to the earlier history of the town. A desk based study was implemented and a watching brief was undertaken during excavation of foundation trenches for the dwelling to assess any archaeological remains.
The assessment highlighted a wealth of documentary evidence but also that little previous archaeological investigation had been undertaken throughout the town and from sites in the vicinity of the study area. There were no known Sites and Monuments Records within the study area but eleven within the township. The nineteenth century buildings on the northern part of the site are of Listed Grade II status and will thus be subject to planning controls. The site would appear to have been built on since the eighteenth century and almost certainly before then. It was possible to establish some of the ownership of the land and discover evidence of rebuilding at about 1821 of the Cross Keys Inn itself, although there was no direct evidence of below ground disturbance such as cellars.
There was a likelihood of preserved remains dating to earlier phases of construction on the site and a slight possibility of even earlier remains at the rear of the present buildings and within the site boundary where there has been less recent building activity.
The watching brief located the presence of one modern brick built culvert and an earlier stone built culvert. The stone culvert, although not accurately datable, was located within a post-medieval soil horizon which yielded eighteenth and nineteenth century pottery sherds. Only one narrow trench went deeper than the plough soil horizon and no evidence of early post-medieval or medieval archaeology was encountered during the watching brief.
Actions (login required)