Hughes, Vix (2003) Hartley Fold Estate Survey, Cumbria. Archaeological Survey Report. [Client Report] (Unpublished)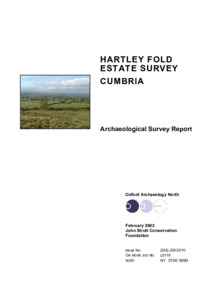 Preview
PDF




L9119_Full_Report_Feb2003_No_project_design.pdf


Download (22MB) | Preview
Abstract
An archaeological assessment of the Hartley Fold Estate, Cumbria (centred at NY 3790 5090;
Fig 1) was undertaken in September 2002, followed by a field walkover survey in November
2002. The work was done by Oxford Archaeology North (OA North) on behalf of the John Strutt
Conservation Foundation. The aim of the work was to provide archaeological information for the
management of the landscape and the archaeological resource of the estate. The programme of
work involved a detailed assessment of documentary sources relating to the estate and an
identification survey of the extent of the estate.
The area within the John Strutt Conservation Foundation Estate is centred on the historic
medieval township of Hartley, near Kirkby Stephen. The village had, at its centre, a fourteenth
century castle, which was abandoned and demolished in the seventeenth century. Within the
estate is a wealth of archaeological remains of all periods, demonstrating continued and
extensive occupation of the area, and part of the area is a scheduled monument. The estate is split
into a low, improved valley bottom area and the unenclosed marginal uplands to the east of
Hartley. The unenclosed lands have been subject to only non-intensive post-medieval/medieval
farming, allowing the preservation of Romano-British/Iron Age enclosed settlement remains,
each with associated field systems. The settlements extend in a north-east/south-west line
following the contours.
Actions (login required)