Newman, Rachel and Quartermaine, Jamie and Scott, Ian (1997) Broughton Moor To Flimby Pipeline, Cumbria Archaeological Evaluation Report. [Client Report] (Unpublished)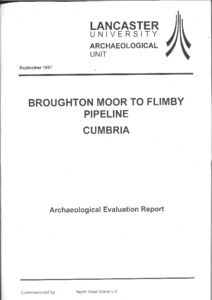 Preview
PDF




Eval Report.pdf


Download (12MB) | Preview
Abstract
The Lancaster University Archaeological Unit (LUAU) was commissioned by North West Water Ltd to undertake an archaeological evaluation in advance of the construction a proposed pipeline between Broughton Moor and Flimby. The evaluation examined two sites which had been highlighted by an earlier assessment (LUAU 1997), the first of these was at the site of Seatonmoor Colliery, near Moorside Farm; the second was at the intersection between the line of the pipeline and a putative Roman road to the south of Cemetery House, near Flimby.
The evaluation of the Seatonmoor Colliery site involved the excavation of seven machine-cut trenches on an alternate 30m grid pattern over the extent of the pipeline corridor. No archaeological features were identified, although however, small sherds of post-medieval pottery were recovered during machining in several of the trenches. It is probable that these had been deposited during manuring and subsequent ploughing and do not necessarily reflect the existence of archaeological features.
The evaluation of the Cemetery House Track site involved the targeted excavation of four 10m x 1.8m trenches on either side of the putative Roman road. No evidence of any road metalling was identified but the only archaeological feature identified was a post-medieval rubbish pit, which contained considerable quantities of nineteenth century ceramics. Within the other trenches small sherds of post-medieval and twentieth century pottery were recovered, which is consistent with their deposition as a result of manuring.
In addition to the trenching programme a walk-over survey was undertaken along the western part of the pipeline route which had been significantly altered since the earlier assessment. This survey did not reveal any new sites.
The archaeological resource, identified during the evaluation of the Seatonmoor Colliery site, was insufficient to justify recommending any further archaeological work. Although the trenching on either side of the putative road did not identify the Roman road, the trenches, by virtue of the local topography, could not be excavated closer than 2.5m away from the present track and consequently there is a possibility that there are extant archaeological remains underneath the track. It is therefore recommended that an archaeological watching brief be undertaken during the topsoil strip for the pipeline construction programme.
Actions (login required)