Ashbee, Jeremy and Fletcher, Mark and Hair, Nick and Howard-Davies, Chris and Neil, Nigel and Newman, Rachel and Quartermaine, Jamie (1997) Lathom House, Near Ormskirk, Lancashire Survey and Evaluation Report. [Client Report] (Unpublished)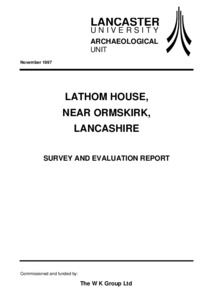 Preview
PDF




complete.pdf


Download (5MB) | Preview
Abstract
A programme of topographical survey, building recording, geophysical survey and archaeological evaluation was carried out at the site of the former Lathom House near Ormskirk, South Lancashire (NGR SD 34594091). Of the Great House, only one ancillary wing (the West Wing) remains, along with several outbuildings, but pictorial sources indicate that this was a grand eighteenth century Palladian mansion in the best traditions of its architect, the celebrated Venetian Giacomo Leoni. The landscaped gardens to the south and east of the standing building, including the ha-ha, are likely to date from this period of the site's history. The surviving building, a stable block, appeared to be essentially a construction of the first half of the eighteenth century, constructed as a wing to the house, and had been subject to modifications during the nineteenth and twentieth centuries.
This house had been preceded by a large and impressive fortified residence of the late fifteenth and early sixteenth century, built by the Earls of Derby and inhabited in the late fifteenth century by Lady Margaret Beaufort, mother of Henry VII. This house was besieged twice by the forces of Parliament during the Civil War, and thereafter slighted. The site of this first house/castle has been a matter of antiquarian debate over the last 200 years, and prior to the LUAU work, little direct evidence had been found to support the view that the eighteenth century house lay in close proximity to its late medieval predecessor.
Building recording of the surviving West Wing was undertaken in advance of reconstruction work, this revealed that fragments of masonry from earlier buildings had been incorporated into the eighteenth century structure. A new topographical field survey was undertaken in order to locate all of the other elements of the project.
Geophysical survey, utilising both resistivity and magnetometry, was undertaken on the plot of land to the south of the West Wing; this revealed both linear and discrete anomalies, which were interpreted as being related to features of the eighteenth century garden.
Within this latter plot, and based upon the results of the geophysical survey, evaluation trial trenching, followed by area stripping on the site of a proposed bungalow, revealed a large, curvilinear rock-cut feature, to the south of the West Wing, which appeared to run southeastwards into the ha-ha: this has been provisionally interpreted as the moat of the medieval house, and suggests that the medieval fortified residence of the Stanleys may have lain in the area presently occupied by the landscaped garden to the east of the standing West Wing.
Actions (login required)