Kwiatkowska, Malgorzata (2022) Medieval remains at Westhall Farm, Gayton, Norfolk. [Client Report] (Unpublished)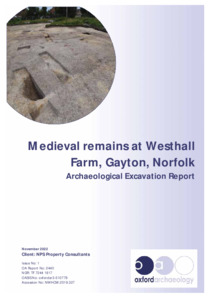 Preview
PDF




OAE Report 2440 XNFWFG20_ENF148241_LR.pdf


Available under License Creative Commons Attribution Share Alike.
Download (5MB) | Preview
Abstract
Between 1st of June and 2nd of July 2020 Oxford Archaeology East was commissioned by NPS Property Consultants to undertake an archaeological excavation on land at Westhall Farm, Gayton, Norfolk (centred TF 7244 1917) ahead of construction of a new school. The area had been the subject of a phased programme of archaeological investigation, including an earthwork survey (Hutton and Rees 2019) and trial trenching evaluation (Wallis 2019). The excavation, located to the south-west of the development area uncovered remains dating from the Anglo-Saxon to post-medieval periods, with the majority of the remains dated to the medieval period.
Activity on the site appears to have begun in the Late Saxon period with pottery recovered from evaluation Trenches 11 and 13 on higher ground in the centre of the development area. Several Late Saxon features were tentatively identified in the excavation; however, only a single sherd of Late Saxon Thetford ware was recovered.
The majority of features on the site dated to the medieval period with four phases of boundary ditches probably demarcating the development of at least four small scale agro-pastoral plots. The remains of these plots had been previously identified by the earthwork survey. Although the majority of the plots were devoid of features, evidence of a possible post-built structure was uncovered within the south-westernmost enclosure. The main ditch dividing the excavation area, aligned north to south, was first established during this period. The remains of a possible trackway lay to the south. A well and a pit, both with waterlogged deposits, suggest agro-pastoral activity around the plots.
The land divisions became more regular over time with a series of three well defined rectangular plots identified between east to west aligned ditches running across the site.
Activity decreased after the 14th century. However, it seems that the area remained arable land into the modern era, with a large boundary ditch 1710 established during the 18th century.
A significant medieval pottery assemblage was recovered from the plot boundary ditches, whilst a small faunal assemblage is indicative of food waste and disposal of farm surplus. Perhaps the most interesting finds were recovered from waterlogged contexts; that of the sole of a medieval leather turnshoe preserved in the basal fill of a ditch and a fragment of jointed structural timber recovered from a pit. Given the waterlogged conditions of some features the environmental remains provided only sparse evidence for the economy of the site with cereal cultivation forming part of an agro-pastoral regime. The majority of the environmental remains are indicative of the disposal of domestic refuse.
Item Type:
Client Report
Uncontrolled Keywords:
Norfolk, norfolk, Gayton, gayton, Excavation, excavation, archaeological excavation, full report, early medieval, Early Medieval, Medieval, medieval, Post-Medieval, Post Medieval, post-medieval, post medieval, pottery, Pottery, pot, ceramic, sherd, vessel, early medieval pottery, Early Medieval pottery, Medieval pottery, medieval pottery, Post-Medieval pottery, Post Medieval pottery, post-medieval pottery, post medieval pottery, farming, medieval farming, agriculture, pastoral farming, medieval pastoral farming, boundary ditches, boundary ditch, medieval boundary ditch, four-post structure, four post structure, waterlogged deposit, leather, leather shoe, animal remains, animal bone, bone, farm surplus, post-medieval boundary ditch, ecofacts, ecofact, 2440, report 2440, Report 2440, OAE report 2440
Subjects:
Geographical Areas > English Counties > Norfolk
Period > UK Periods > Early Medieval 410 - 1066 AD
Period > UK Periods > Medieval 1066 - 1540 AD
Period > UK Periods > Post Medieval 1540 - 1901 AD
Divisions:
Oxford Archaeology East
Depositing User:

Hamilton

Date Deposited:
10 Nov 2022 07:56
Last Modified:
10 Nov 2022 07:56
URI:
http://eprints.oxfordarchaeology.com/id/eprint/6704
Actions (login required)