Kwiatkowska, Malgorzata (2020) Medieval remains at Westhall Farm, Gayton, Norfolk: PXA. [Client Report] (Unpublished)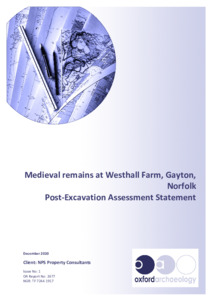 Preview
PDF




Report 2477 PXA Statement_HR.pdf


Available under License Creative Commons Attribution Share Alike.
Download (6MB) | Preview
Abstract
From the 1st of June to 2nd of July 2020 OA East carried out an open-area excavation on 0.15ha of land at Westhall Farm, Gayton (centred TF 7244 1917, Fig. 1). The work was commissioned by NPS Property Consultants on behalf of NCC Children's Services in advance of the proposed development of a school. An initial archaeological desk-based assessment was carried out by NPS Archaeology (2018), followed by an earthworks survey (Hutton and Rees 2019) and a programme of trial trenching (Wallis 2019) both carried out by OA East.
The excavations at the site uncovered five phases of activity spanning the late Saxon to the late medieval period, with the majority of remains dated to the 12th-14th centuries. Evidence at the site indicates that the first agricultural activity took place during the late Saxon period with the establishment of field divisions which continued in use until the late medieval period. With time the activity at the site intensified, as evidenced by multiple re-establishments of the ditched boundaries. These remains of ditched enclosures might be evidence of activity related to West Hall Manor (NHER 3748), to the north-west of the site and, whilst they do not appear to have lain within an area of settlement, the finds suggest occupation in close proximity to the site.
This document forms a Post-Excavation Assessment Statement, relating to the final stage of archaeological investigations at the site. As outlined in Sections 6 and 7, below, it will be followed by a full programme of post-excavation analysis and the production of a detailed archive report.
Item Type:
Client Report
Uncontrolled Keywords:
Norfolk, norfolk, Gayton, gayton, Excavation, excavation, archaeological excavation, PXA, pxa, Post-Excavation Assessment, Post-excavation Assessment, post-excavation assessment, early medieval, Early Medieval, Medieval, medieval, Post-Medieval, Post Medieval, post-medieval, post medieval, pottery, Pottery, pot, ceramic, sherd, vessel, early medieval pottery, Early Medieval pottery, Medieval pottery, medieval pottery, Post-Medieval pottery, Post Medieval pottery, post-medieval pottery, post medieval pottery, farming, medieval farming, agriculture, pastoral farming, medieval pastoral farming, boundary ditches, boundary ditch, medieval boundary ditch, four-post structure, four post structure, waterlogged deposit, leather, leather shoe, animal remains, animal bone, bone, farm surplus, post-medieval boundary ditch, ecofacts, ecofact, 2477, report 2477, Report 2477, OAE report 2477
Subjects:
Geographical Areas > English Counties > Norfolk
Period > UK Periods > Early Medieval 410 - 1066 AD
Period > UK Periods > Medieval 1066 - 1540 AD
Period > UK Periods > Post Medieval 1540 - 1901 AD
Depositing User:

Hamilton

Date Deposited:
10 Nov 2022 08:55
Last Modified:
10 Nov 2022 08:55
URI:
http://eprints.oxfordarchaeology.com/id/eprint/6706
Actions (login required)