Hedley, Iain (1999) Lambton Cokeworks, Sunderland. Archaeological Assessment Report. [Client Report] (Unpublished)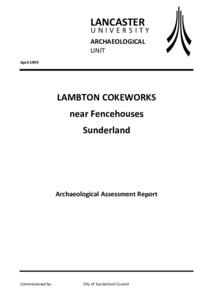 Preview
PDF




L7879_VL_Report_Full.pdf


Download (50MB) | Preview
Abstract
LUAU were commissioned in March 1999 by the City of Sunderland Environment
Department to undertake an archaeological assessment of the site of the former Lambton
Cokeworks, Fencehouses, in advance of the reclamation of the site.
The area includes the site of the Bournmoor D Pit whose excavation and recording in 1995-6
revealed the remarkable survival of early pithead structures and the earliest and most
extensive timber waggonway remains so far discovered in Britain.
The pre-industrial landscape is likely to have been fully enclosed by the time the D Pit was
sunk and no evidence of any significant earlier archaeological remains in the study area have
been found. The site of the B Pit, which probably dates to around 1784, lies within the study
area and may retain significant archaeological features at the pit head, though this is not
conclusive. From the mid-nineteenth century the colliery and ancillary coalfield industries
such as brick and tile, coke, and firebrick, continued to develop, whilst the rail network
linking these sites to the Lambton Railway continued to be modified. Up until the 1890's the
colliery belonged to the Earl's of Durham (Lambton) but was then converted to a limited
company before being sold to James Joicey. In 1947 the Joicey collieries were nationalised
and the D Pit continued to operate under the National Coal Board until closure in 1965. The
coke works continued until 1983 and were demolished soon after.
Actions (login required)