Kenney, Jane (1995) Holcombe Moor Training Centre, Bury, Greater Manchester. Archaeological Assessment. [Client Report] (Unpublished)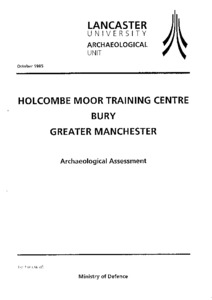 Preview
PDF




7438_CompleteReport.pdf


Download (801kB) | Preview
Abstract
Lancaster University Archaeological Unit, at the request of the Defence Lands
Service, Ministry of Defence, undertook an archaeological assessment of the
Holcombe Moor Training Centre, near Bury, in Greater Manchester, in February
1995. This was requested to allow appropriate land management strategies to be
enacted.
The assessment consisted of a search of existing records of archaeological sites in
the area, an appraisal of relevant published, manuscript, cartographic, and
photographic documentation, and a field inspection of the land holdings related to
the Training Centre.
The desk-based study has revealed evidence for a considerable amount of
archaeological activity within the study area. Prehistoric activity on Bull Hill, in the
north, was already well-attested, with finds of Mesolithic artefacts being recorded
in published antiquarian literature. A denuded cairn at Pilgrims' Cross, also on Bull
Hill, was probably of Bronze Age origin. Palaeoenvironmental work at Deep
Clough, adjacent to the study area, has demonstrated local woodland clearance in
several phases during the prehistoric and historic periods.
Actions (login required)