Newman, Rachel and Quartermaine, Jamie and Wild, Chris (1998) Great Asby, Appleby, Cumbria. Archaeological Evaluation. [Client Report] (Unpublished)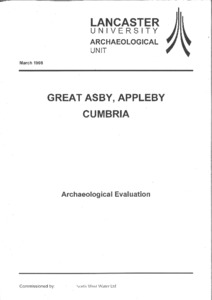 Preview
PDF




GrAsby Report.pdf


Download (15MB) | Preview
Abstract
An archaeological evaluation was carried out by Lancaster University Archaeological Unit (LUAU) in advance of a sewerage scheme in the village of Great Asby in Cumbria (NGR NY 6865 1360) on behalf of North West Water Ltd in December 1997. It followed on from an archaeological assessment undertaken by LUAU in February 1997 (LUAU 1997). The present evaluation involved the investigation, by trial trenching, of a proposed sewage treatment works, in an area c65m x 48m, c0.5km to the east of the village, and also two outfall sewerage pipes. In the event access was not available to enable trenching of either of the two sewerage pipes.
The evaluation involved the excavation of five trenches, each measuring 30m by 1.6m, which were mechanically dug, under archaeological supervision, prior to being cleaned and inspected by experienced archaeologists. The trenching revealed a very shallow stratigraphy, devoid of disturbed subsoils. Two areas of modern infill of a former stream bed were observed, one containing modern brick. No other artefacts or features of archaeological significance were recovered during the evaluation.
To an extent the negative results reinforced the earlier supposition (LUAU 1997) that this part of the village was undeveloped during medieval times, although it does appear that the subsoils of the site had been truncated, thus removing any potential archaeological deposits.
The development will not have an impact upon an identified archaeological resource and therefore it is recommended that no further archaeological investigation be undertaken in the area of the proposed treatment works. However, as it was not possible to examine the area of the sewer pipes it is recommended that they be examined as a watching brief during the construction work.
Actions (login required)