Mason, Neal (2019) Middle Iron Age Remains at Biggin Lane, Ramsey, Cambridgeshire: PXA and UPD. [Client Report] (Unpublished)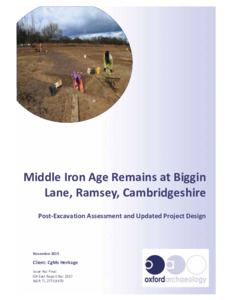 Preview
PDF




OAE_Report 2317_RASBIG19_LR.pdf


Available under License Creative Commons Attribution Share Alike.
Download (2MB) | Preview
Abstract
From the 28th February to the 29th March 2019 Oxford Archaeology East (OA East) carried out an open-area excavation on land north of Biggin Lane, Ramsey, Cambridgeshire (TL 2771 8470, Fig.1). The excavation area measured 0.51ha within a larger site (approximately 9ha) earmarked for residential development.
Previous archaeological works on the site, in the form of a geophysical survey and a trial trench evaluation, had revealed rectilinear features consistent with an enclosure and field boundary ditches, along with finds dating from both the Middle Iron Age and Romano-British periods.
This investigation confirmed these earlier results by revealing the partial remains of a probable small farmstead comprised of two sub-square enclosures, two ring gullies associated with roundhouses, a field boundary ditch and two pit groups - all relating to broadly contemporary Middle Iron Age activity, with some evidence of later recutting during the Late Iron Age/Early Roman periods. The faunal remains recovered were also consistent with small-scale pastoral activity.
Evidence of an earlier presence was provided by one pit containing Early Bronze Age pottery, a small amount of residual Middle Bronze Age pottery recovered from the boundary ditch and several pits which contained only Early Iron Age pottery.
Significant modern truncation associated with the 20th century airfield was revealed across the site.
Item Type:
Client Report
Uncontrolled Keywords:
Ramsey, ramsey, Cambridgeshire, cambridgeshire, Excavation, excavation, archaeological excavation, PXA, pxa, Post-Excavation Assessment, Post-excavation Assessment, post-excavation assessment, UPD, upd, Updated Project Design, updated project design, Iron Age, iron age, Middle Iron Age, middle iron age, Pottery, pottery, pot, ceramic, sherd, vessel, Iron Age pottery, iron age pottery, Middle Iron Age pottery, middle iron age pottery, roundhouse, round house, enclosure, enclosure ditch, Iron Age enclosure ditch, pit, ditch, animal remains, animal bone, animal bones, bone, bones, bone needle, agriculture, farming practices, 2317, report 2317, Report 2317, OAE report 2317
Subjects:
Geographical Areas > English Counties > Cambridgeshire
Period > UK Periods > Iron Age 800 BC - 43 AD
Period > UK Periods > Iron Age 800 BC - 43 AD > Middle Iron Age 400 - 100 BC
Period > UK Periods > Post Medieval 1540 - 1901 AD
Divisions:
Oxford Archaeology East
Depositing User:

Hamilton

Date Deposited:
11 Nov 2022 13:08
Last Modified:
11 Nov 2022 13:08
URI:
http://eprints.oxfordarchaeology.com/id/eprint/6742
Actions (login required)