Newman, Richard and Quartermaine, Jamie (1998) Lawkland Hall, Settle, North Yorkshire. Archaeological Watching Brief. [Client Report] (Unpublished)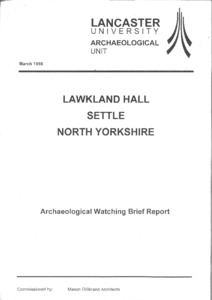 Preview
PDF




LAWKREP.pdf


Download (6MB) | Preview
Abstract
A watching brief was undertaken by Lancaster University Archaeological Unit (LUAU), on behalf of Mason Gillibrand Architects, in advance of the dismantling of part of a wall in the hallway of Lawkland Hall, near Settle, North Yorkshire (NGR SD 776 659). The watching brief was undertaken during February 1998, in accordance with guidelines from English Heritage, who required the recording of this internal wall in the course of its partial demolition.
The recording of the elevation was undertaken by a combination of semi-rectified photography with respect to a manually surveyed control. The drawings were then generated within a Computer Aided Draughting (CAD) environment. The survey plan was based on one generated by Mason Gillibrand Architects.
The plaster and wall finishes were removed prior to the dismantling of the wall and this revealed that the southern half had previously been demolished, and had been replaced by panelling. The panelling is not of great antiquity and it is probable that these alterations occurred in c1912, when the present staircase was constructed. At the southern end of the wall the insitu moulded jambs of an early doorway were exposed; this doorway had been narrowed by the construction of a less ornate door jamb to the south of the first. The doorway is adjacent to that of the outshut to the hall, which has a very similar moulding design to that of the early door jamb and there is thus an implication that both doors were broadly contemporary.
The northern end of the wall was found to have been rebuilt within recent years, in order to provide structural support for a major ceiling beam. In places this rebuild overlay late nineteenth/twentieth century ceramic tiles and it is probable that it was a product of the construction of the present staircase, which occurred in c1912.
The survival of an early doorway in this wall would suggest that it was originally an early, potentially seventeenth century, structural element of the hall. The rebuilding of the northern part of the wall, however, has prevented the confirmation that this was part of an angled passage between the central door and the rear outshut, but the probability remains that this was its original form.
The demolition of the northern part of the wall has not resulted in the loss of much, if any, original wall fabric. It is, however, recommended that any further dismantling to the wall involves the retention in situ of the early moulded door jamb at the southern end as this is an important survival of the seventeenth century central range.
Actions (login required)