Buxton, Katharine and Howard-Davies, Christine (1996) A595 Dalton Bypass To Askam-In-Furness Improvement, Cumbria. Archaeological Evaluation. [Client Report] (Unpublished)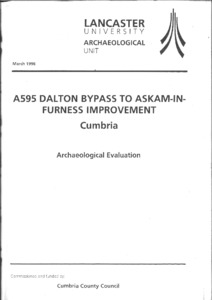 Preview
PDF




furtext.pdf


Download (11MB) | Preview
Abstract
In January 1995, at the request of Cumbria County Council Highways, Lancaster University Archaeological Unit (LUAU) produced an Archaeological Assessment of the proposed route of the A595 Dalton Bypass to Askam-in-Furness. On the basis of the findings this recommended further evaluatory work. In November 1995 Cumbria County Council Highways commissioned LUAU to prepare a project design for this evaluation work on the route. The present report presents the results of this work, comprising landscape survey and trial trenching of both greenfield and targeted sites.
In the evaluation phase of work three sites: two areas of ridge and furrow (Sites 8 and 9), and a trackway (Site 11), were selected for detailed topographic survey in order to create a permanent record of features that will be adversely affected by the road construction. The survey was undertaken within a larger corridor than that for the actual road, in order to place the sites within their wider context. Forty-seven greenfield trenches were excavated in order to establish the presence or absence of any previously unsuspected archaeological deposits, and, if established, to define their character, date, and state of survival. In addition a single deliberately targeted trench was located in order to examine the trackway observed in the Assessment (Site 11).
Although both prehistoric and medieval activity are known in the area of the Dalton Bypass to Askam-in-Furness, and extensive mining operations were common in the vicinity, the actual route of the bypass itself showed little surface evidence of human activity, other than ridge and furrow ploughing. The results of the trenching indicate only limited archaeological activity in the area. Of the 48 trenches only five demonstrated evidence of archaeological activity, with two subsurface linear features perhaps of archaeological interest. Trenches 21, 22 and 24 contained a linear feature aligned east-west, which is assumed to be a relict field boundary. Trench 23 also contained a linear feature (3.5+m wide and 1.05m deep) aligned approximately northsouth, which contained layers of dark brown, very humic, organic material. The date, and function of the feature were unclear from excavation, but the fill, and the poorly drained nature of the ground to the west, suggest that it was probably connected with drainage. The trackway (Trench 36) identified during the assessment and surveyed during this phase of work is apparently of relatively modern origin.
In this case, LUAU consider that no further work is necessary prior to the land being taken for road construction. We do however recommend that there is a permanent presence watching brief during the initial groundworks, which should have some allowance for minimal stoppage to allow for rapid archaeological excavation and recording, if any significant deposits are revealed. This watching brief should examine in particular detail the northern field in which the linear features (Trenches 21-24) were found.
Actions (login required)