Hair, Nick (1995) Haweswater Estate, Cumbria. Archaeological Survey Interim Report. [Client Report] (Unpublished)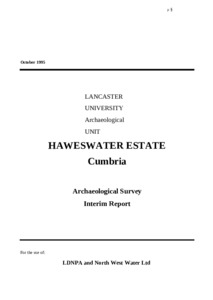 Preview
PDF




Report.pdf


Download (759kB) | Preview
Abstract
The Lancaster University Archaeological Unit (LUAU), at the request of the Lake District National Park Authority (LDNPA) and North West Water Limited, is undertaking an identification, historical and archaeological survey of the Haweswater Estate. The project has been timetabled to run over three years encompassing three seasons fieldwork, this interim report outlines the results achieved by the first seasons fieldwork. This took place over a 20 day period between 20th February and 23rd June 1995.
A desk top study assimilated the results of all archaeological work undertaken in the area to date. The first phase of fieldwork comprised a survey of most of the land to the north of the Haweswater reservoir. The sites were located by the use of Global Position System technology (GPS). The digital results of the survey were combined, on a CAD system, with digital topographic detail supplied by LDNPA. A gazetteer of all archaeological sites was also compiled.
The survey identified over 144 monuments ranging in date from the prehistoric period to the 19th century. The upland landscape produced evidence of several prehistoric sites, including: cairnfields, dykes and round cairns.
Three sub-circular enclosures were recorded, and all lie within the area of upland common, two of these may date to the Iron Age/Romano-British period and the third is probably early Christian. Over twenty hollow ways were surveyed, most date to the medieval/post medieval periods, and all were situated within the upland common area. A broad range of hollow ways follow the line of the Roman High Street, testifying to its continued use through subsequent periods.
The survey recorded a large number of medieval/post-medieval features, and many of these were situated within the enclosed land along the eastern margins of the study area. Most of these features relate to past agricultural activity and comprise relict field boundaries, ridge and furrow, and quarries from which stones were extracted to build the numerous drystone walls so typical of this area of the Lake District. A number of bields, sheepfolds, and quarries were identified outside the enclosed land, within the upland landscape. These structures although usually located within valleys, were occasionally located on upland summits, indicating that medieval/post-medieval pastoral activity was not confined to the lower lying areas.
The survey has highlighted the archaeological potential of the area and has demonstrated multi-phased agricultural activity along its eastern margin. This survey will serve to enhance the existing archaeological information contained in North West Water Limited's Haweswater Estate Integrated Land Use and Management Plan. The data will allow appropriate management strategies to be enacted.
Actions (login required)