Dean, Brian (2008) Land at Brooklands, Milton Keynes, Phase 1. Project Report. Oxford Archaeological Unit Ltd. (Unpublished)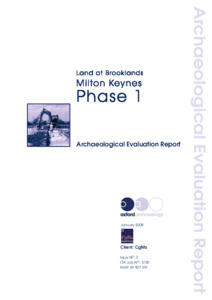 Preview
PDF




BRBR07Phase1Eval.pdf


Available under License Creative Commons Attribution Non-commercial.
Download (4MB) | Preview
Abstract
During September and October of 2007, Oxford Archaeology undertook an evaluation by trial trenching at the land at Brooklands, Milton Keynes (centred NGR: SP 907 397), for the first phase of the development proposals, for CgMs Consulting, acting on behalf of Hallam Land Management and William Davis Ltd and Coston Ltd.
The evaluation was preceded by a geophysical survey and the results of the
trenching works broadly confirmed these findings (where these surveys coincided). The trenching demonstrated that the Iron Age and Romano-British settlement activity was broadly confined within Area 1 and that the surrounding area contained mainly field systems, as predicted by the geophysics.
In addition to this, another focus of potential settlement activity of medieval date was found just to the north of Broughton Grounds Lane. This collection of pits and ditches sits on the edge of a gravel terrace associated with a tributary of the River Ouse to the west. This evidence indicates that this activity may be more extensive across the terrace, into trenches 57 through 62, which were inaccessible due to the presence of cattle.
Actions (login required)