Thacker, Gerry (2011) The Bungalow, Queen Street, Bloxham, Oxfordshire. Project Report. Oxford Archaeological Unit Ltd. (Unpublished)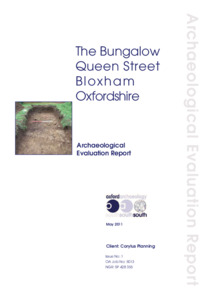 Preview
PDF




BLOQS_11.pdfA.pdf


Download (2MB) | Preview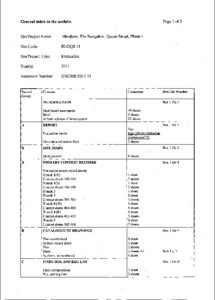 Preview
PDF




BLOQS 11 Bloxham, The Bungalow, Queen Street, Phase 1_A1b.pdf


Download (5MB) | Preview
Abstract
Between the 4th and 7th of April 2011 Oxford Archaeology (OA) carried out a field evaluation in the front and rear gardens of The Bungalow, Queen Street, Bloxham,
Oxfordshire, on behalf of Corylus Planning and ahead of the construction of three new dwellings.
The evaluation consisted of three trenches and two test pits which were excavated on, or close to, the footprint of the proposed dwellings. The earliest archaeological evidence comprised a length of ditch containing pottery
of late Saxon early medieval date (11th century). A number of other undated ditches might be related and might represent a simple system of ditched enclosures,
possibly agricultural, and associated with contemporary settlement nearby.
Evidence was also recovered for stone founded structures fronting on to both Queen Street and Kings Road. Cottages are mapped into the mid to late twentieth century (presumably similar to those surviving today elsewhere on both streets). Pottery and brick from within these structures suggest they may originate in the late
medieval/Tudor period, although they may be later structures that incorporate residual or re-used materials.
A relict agricultural or garden soil of post medieval date, sealed by the modern topsoil, was visible in some of the trenches and suggested that the area had been
put over to tillage at some point. A large quarry pit was cut through the soil and contained a mixed assemblage of pottery from the late medieval period to the
nineteenth century.
Actions (login required)