Dodd, Mark (2008) Land at Brooklands, Phases 2 – 4 evaluation. Project Report. Oxford Archaeological Unit Ltd. (Unpublished)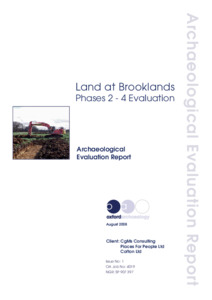 Preview
PDF




BRBRPhases_2_-_4_Evaluation_Report.pdf


Available under License Creative Commons Attribution Non-commercial.
Download (3MB) | Preview
Abstract
During May and June of 2008, Oxford Archaeology undertook an evaluation by trial trenching at the land at Brooklands, Milton Keynes (centred NGR: SP 907 397), which covered Phases 2-4 of the development proposals. The works were commissioned by CgMs Consulting, acting on behalf of Places for People Development Ltd and Cofton Ltd.
The evaluation works uncovered two settlement foci, as well as three other foci of activity.
The largest settlement foci was already known from the results of the geophysical survey (Area 22), however the evaluation works discovered a large peripheral zone surrounding this settlement core, and determined that it is primarily of Romano-British date.
The second, smaller, settlement focus of early Iron Age date was also confirmed, centred around geophysical survey Area 10. This focus also has a zone of peripheral activity, albeit on a much smaller scale than that found around the Romano-British focus. This peripheral zone is also less well defined as there are a number of later, intrusive features throughout it, making its extent difficult to define at this stage.
The other three foci consist of one possible, small undated settlement focus in the north-west of the site, one isolated group of features in Trench 178, of Bronze Age and Iron Age date, and a small collection of potentially late Bronze Age features to the south-east of the Romano-British focus.
The remainder of the site was covered by a sparse collection of field boundaries of various dates.
Actions (login required)