Anker, Katrina (2011) Culham Court, Remenham, Berkshire. [Client Report] (Unpublished)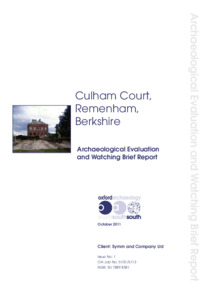 Preview
PDF




RECUCO_11.pdfA.pdf


Download (2MB) | Preview
Abstract
In July 2011 Oxford Archaeology (OA) conducted an archaeological field evaluation
at Culham Court, Remenham, Berkshire. The work was commissioned by Symm
and Company Ltd, on behalf of the owners, as a result of planning conditions
attached to a proposed basement extension to the house.
A desk-based assessment, undertaken by OA prior to the evaluation, established
that although there was activity in the wider area ranging from prehistoric to postmedieval,
there was limited evidence for activity at the proposed development site.
Previous archaeological investigation at Culham Court was limited to three
evaluation trenches excavated at the south of the house prior to an earlier phase of
basement extension.
The current evaluation, situated to the west of the house, consisting of a single 14 x
1.8m evaluation trench, revealed a substantial undated NE-SW aligned ditch and a
possible pit containing a single fragment of 19th-20th century window glass and
interpreted as the remains of a former landscaping feature. An abraded, fragment of
late Iron Age - early Roman grog tempered pottery was recovered from the topsoil
of the evaluation trench. As a result of the findings of the evaluation, Mary Neale of
Berkshire Archaeology requested a watching brief to be conducted during the initial
construction phase of the basement. The watching brief revealed several postmedieval
archaeological features within the area in addition to the ditch discovered
during the evaluation.
The results of the watching brief demonstrated that the substantial ditch, interpreted
as a boundary ditch, was stratigraphically the earliest feature encountered within the
area. The remaining features consisted of two mid-late 19th century shallow ditches,
one associated with the existing yew tree hedge, a curvilinear ditch encircling a tree
stump interpreted as a garden feature, two discrete features, probably the remains
of tree boles and a curvilinear ditch filled with loose chalk rubble, probably the
remains of the 19th century ovoid path encircling the terrace immediately to the
north of the house and removed in the 1960s.
Actions (login required)