Lawrence, Steve (2003) British Gas Site, Vineyard, Abingdon. Project Report. Oxford Archaeological Unit Ltd. (Unpublished)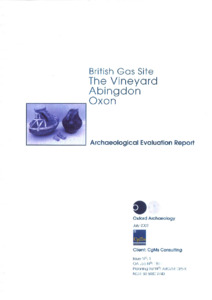 Preview
PDF




ABGAS03 evaluation.pdf


Download (3MB) | Preview
Abstract
Oxford Archaeology undertook a field evaluation on land located to the rear of 75 Vineyard, Abingdon, Oxon on behalf of CgMs Consulting, between 30th June and 4th July 2003. The site was formerly occupied by a Gas works which has since been subject to remediation works to remove contaminated land. The main areas of Gas works installations
and subsequent remediation on the southern portion of the site have severely impacted upon and removed potential archaeological horizons.
However, a considerable area occupying the northern portion of the site demonstrates excellent preservation of densely spaced archaeological features and deposits. These comprised rubble layers/surfaces, gullies,ditches, pits and postholes. Pottery evidence demonstrates a date range
concentrated between the late Saxon l0th century and 14th century.
Features outside of the medieval concentration were also identified including a single Iron Age gully. A sequence of recut ditches predating the medieval pits within Trench I produced many fragments of mixed human bone from at least two individuals. These ditches were not securely dated. However, the gravely fills and reddish soil infilling them
is suggestive of a prehistoric date rather than a more recent lime span.
Post-medieval depsoits and features were also present but had not severely truncated or removed the medieval remains.
Actions (login required)