Bell, Christopher (1994) FLAGGS, 18 BROAD STREET, OXFORD. Project Report. Oxford Archaeological Unit Ltd. (Unpublished)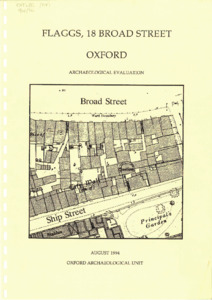 Preview
PDF




OXFLBS94.pdfA.pdf


Download (2MB) | Preview
Abstract
The Oxford Archaeological Unit (OAU) undertook a small archaeoiogical evaluation at the back of Flaggs clothes shop, 18 Broad Street, Oxford, in July 1994. The work was
carried out on behalf of Berman Guedes Architectural Partnership, as part of the conditions of planning permission to extend the ground floor of the shop back to the line of the medieval city wall.
Two small, connecting trenches were excavated by hand, in an area some 5 m to the north of the city wall. Excavation was linlited to a maximum depth of 1.2 m.
Two phases of a stone built structure, projecting back to the city wall, were located only 0.20 m below the present ground surface. The walls were surrounded by intercutting 17th and 18th century rubbish pìts and part of one of the walls had been robbed during this period. This indicated that the walls were no later than 17th century in date, though their exact date could not be esrablished due to the limited depth of excavation.
It is suggested that the walls are related to property bourndaries projecting though from Ships Street, or lean-to structures up against the city wall.
Actions (login required)