Atkins, Robert (2011) Archaeological Excavation: Land at No. 30 New Road Haslingfield, Cambridgeshire. [Client Report] (Unpublished)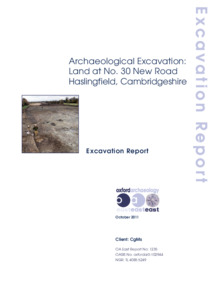 Preview
PDF




HASNER10_Final_LR.pdf


Available under License Creative Commons Attribution Share Alike.
Download (2MB) | Preview
Abstract
Between the 8th November 2010 and September 2011 Oxford Archaeology East
conducted archaeological work on land off 30 New Road, Haslingfield in advance of
a housing development. This comprised an excavation on 0.4ha of land and
afterwards an intermittent watching brief on a further c.0.8ha adjacent area to the
north.
Six main phases of occupation have been suggested with the first archaeological
phase identified part of a Late Iron Age into Early Roman settlement. Several
features were uncovered including an enclosure and possibly a domestic building. A
few residual Late Roman artefacts were found including roof tile fragments which
were mostly from the western part of the site.
The site was re-occupied possibly in either the very Late Saxon period or just after
the Norman Conquest after which the area was in continuous use into the modern
day. Two consecutive long-lived probable back plot ditches (11th to c.mid 13th
century) were found and it is likely the site was located just to the rear of a property
or houses which fronted New Road. A modest quantity of 11th to mid 13th century
features were present on the site and these consisted of ditches, pits and a possible
early medieval out-building in Phase 3. From the mid 13th to mid 14th centuries the
site was taken out of domestic use and became part of a pastoral field system with
a droveway and related enclosures running at right angles to New Road. There were very few features dating from the c.mid 14th to early 17th centuries and
these may all be early post-medieval in date. Documentary evidence shows that
from the late 15th century the western two-thirds of the land within the excavation
area was acquired by Michaelhouse (Trinity College), Cambridge. It is likely that
only from the mid 17th century this part of the site became the centre of the Trinity
College farm. Part of a clunch building, probably the farmhouse, was uncovered
adjacent to New Street with a probable large pond to the rear. It is uncertain when
the farm developed into a "courtyard" plan - certainly by 1810 as the Enclosure map
shows two further buildings directly to the north and west of the former pond; both
buildings were rebuilt and/or extended in the mid 19th century. The eastern third of
the site was separately owned by the Earl de la Warr (the main manor owner) and
was used for quarrying. Soon after the end of WWII the college sold the farm to the
Watson family who continued to farm there until recently.
Actions (login required)