Fletcher, Taleyna (2012) St Bartholomew's Priory Barn Sudbury Suffolk. [Client Report] (Unpublished)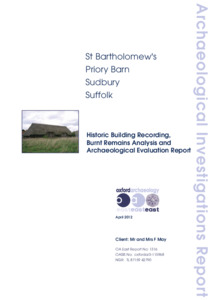 Preview
PDF




XSFBPB11_final_lowres.pdf


Available under License Creative Commons Attribution Share Alike.
Download (21MB) | Preview
Abstract
In November and December 2011, Oxford Archaeology East conducted an historic building survey and archaeological evaluation at the site of a Grade II listed former barn associated with St Bartholomew's Priory in Sudbury, Suffolk. The barn had been almost entirely destroyed by fire in January of the same year and a record of the remaining structure together with an evaluation of any below-ground remains was necessary in order for de-listing of the building and to allow for decisions regarding the future uses and treatment of the site to be made by the relevant local authorities and English Heritage. As part of the work, an investigation of the cause and analysis of the spread of the fire was required. This work was carried out by Dr Karl Harrison of Cranfield University.
St Bartholomew's Priory is believed to have been the only complete priory in the whole of the county, consisting of the barn, the chapel and the house. The former thatched barn, with oak beams, is believed to have dated to the 14th century with later 17th century alterations.
All work was carried out in response to a Brief issued by Suffolk County Council's Archaeological Service Conservation Team. The Brief required that a survey (equivalent to an English Heritage Level 3 Survey) was carried out on the surviving building prior to demolition and an evaluation comprising the excavation of three trenches though the floor and immediately outside of the building was undertaken.
The building survey revealed the survival of several phases of repair and alteration to the brick plinth and a full photographic record of the site including a post-fire rectified aerial image was created.
The evaluation revealed a cluster of inter-cutting Prehistoric quarry pits and undated ditches surviving beneath the floor of the barn. The trenches outside on the northern side of the barn revealed a brick-lined well, chalk-packed post-holes in addition to a flint wall and demolition layers thought to be associated with the cowsheds previously in this location which were removed within the last 10 years.
Actions (login required)