Cockin, Guy (2005) A415 Marcham Bypass. [Client Report] (Unpublished)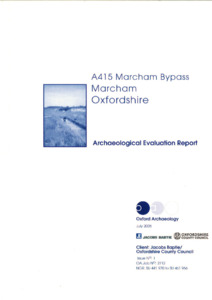 Preview
PDF




A415MA 05.pdfA.pdf


Download (9MB) | Preview
Abstract
Oxford Archaeology (OA) carried out a field evaluation along the proposed route of the A415 Marcham Bypass, Oxfordshire (SU 440 970 to SU 461 966) on behalf of John Babtie in May 2005.
The work comprised twenty trenches targeting cropmark evidence and anomilies highlighted by a fluxgate gradiometer survey of the route, carried out in 2004 by Pre-construct Grophysics.
A first focus of activity dated to the early to mid Saxon period was identified in field 1 in the form of a field system and pit. To the south, across the A338, in Field 2, another field boundary along with a large pit, both dating to the alte 11th century were discovered. A Romano-British ditch was recorded in Trench 3. In both Field 1 and field 2 a certain quantity of residual Romano-British pottery was also encountered.
A second focus of activity dating to the late Bronze Age or Early Iron Age was recorded in trenches 14 and 15 in Field 6, possibly representing settlement related occupation. Field 6 also revealed evidence of extensive field systems, probably of Romano-British, Saxon and Medieval date.
Another possible focus of prehistoric activity, although undated, was excavated in Trenches 22 & 24.
Further linear features were identified in Fields 8, 10 & 11. although many of these were undated, the presence of burnt stone in a number of features points to a prehistoric date.
Actions (login required)