OAU, OAU Windale First School, Blackbird Leys, Oxford. [Client Report] (Unpublished)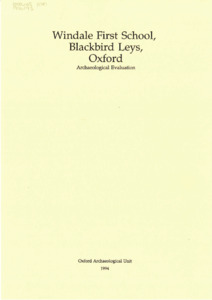 Preview
PDF




OXBLWS94.PdfA.pdf


Download (1MB) | Preview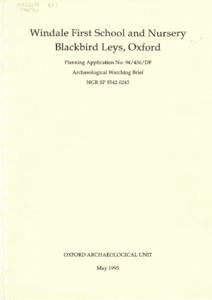 Preview
PDF




OXBLWS 94 (WB).pdfA.pdf


Download (1MB) | Preview
Abstract
An archaeological evaluation was carried out by the Oxford Archaeological Unit from 25th-29th April 1994 in advance of development by WS Atkins for Oxfordshire County Council. Four trenches, each 20 m long and 1.5 m wide, were dug by
machine down to archaeological levels. These were excavated by hand and recorded according to the procedures laid down in the OAU field manual (ed. Wilkinson 1992). During the evaluation the site was inspected by B Durham of the
Oxford Archaeological Advisory Service (hereafter OAAS).
The land is low-lying, dipping from S to N towards the Northfield Brook. The underlying geology is sand overlain by a thin calcareous gravel. This is overlain by
alluvial deposits probably derived from the brook, within which were found treeholes containing preserved wateriogged deposits. These were sealed by further alluvial
deposits, within which a buried soil horizon probably of Roman date was preserved.
The latest alluvial deposit was overlain on the upslope side by colluvial wash, and this was in turn sealed by the modern topsoil.
Following the evaluation a watching brief was carried out in April 1994 on groundworks for the new school. A possible prehistoric boundary was exposed as parallel ditches with a possible protected gound surface between them. Part of a Roman trackway was also noted.
Actions (login required)