Bashford, Robin (2007) Reading GreenPark Village, Clembins geotechnical works monitoring. [Client Report] (Unpublished)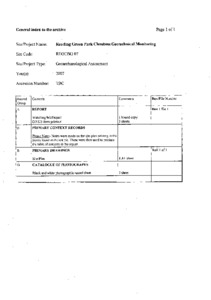 Preview
PDF




REGCBG 07 Reading Green Park Clembins Geotechnical Monitoring_A1b.pdf


Download (2MB) | Preview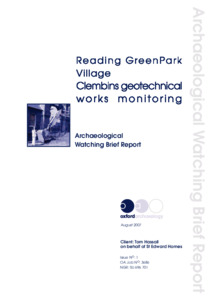 Preview
PDF




REGCBG07.pdfA.pdf


Download (2MB) | Preview
Abstract
In June 2007, Oxford Archaeology undertook a watching brief during the excavation of 12 geotechnical test pits in advance of Phase III Construction at GreenPark Village, Reading. The area covered by the test pits is the 'Clembins Site' and was defined by Kirton's Farm Road to the south; the Reading and Basingstoke railway line to the west; a former gravel quarry pit (now a lake) to the east; and a field boundary to the north.
The deposits encountered within the test pits indicated that across the area natural gravels had been significantly truncated.. Some truncation is clearly due to modern activity (borrow pits for the construction of the
railway, and impacts related to the Clembins remediation site). Some evidence of truncation was undated and may represent archaeological feature fills.
Actions (login required)