Underdown, Simon (2008) 23-25 High Street, Marlow, Buckinghamshire. Project Report. Oxford Archaeology. (Unpublished)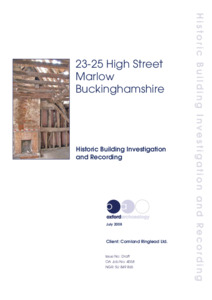 Preview
PDF




MAHST08_BS.pdf


Available under License Creative Commons Attribution Non-commercial.
Download (3MB) | Preview
Abstract
Recording of the historic fabric revealed at 23-25 High Street Marlow during redevelopment was undertaken by Oxford Archaeology. This followed a trial trench evaluation in the rear yard of the property.
The property originally consisted of two timber-framed structures located on the high street frontage of long burgage plots in a medieval market town. Firstly a two bay open hall building at the south end of the frontage and later a single bay floored building adjacent to the north, both with queen strut and clasped purlin trusses supporting ridged roofs aligned parallel to the street. A large proportion of the timber-framing survives on the first floor but the southern truss of the south building has been replaced by a brick wall. The north building has no surviving southern truss and may have been built against the north building but this is not certain.
The two buildings were later connected by a doorway cut through a truss and the roof of the north building was raised to match the south one. A floor was inserted in the south building perhaps in the later 16th century.
In the late 18th or earlier 19th century the front walls were replaced with a unified and higher brick facade with parapet and sash windows. At around the same time a new higher front slope was added to the roof and new extensions with ridged roofs at right angles to the main roof were added to the rear, a small south gable being the earliest of these (possibly an earlier phase). The first floor rooms were raised by cutting off the medieval common rafters at collar level and ceilings were inserted at that height. The
rear (east) wall was heightened with additional framing but elements of the medieval wallplates are and some early wattle and daub infill panels are preserved within it.
The rest of the early infill of the framing has gone although there are grooves for staves in the ties and collars of the southern trusses. All the trusses contain later studwork for supporting lath and plaster and some of this consists of reused hardwood including some ovolo moulded 17th century window jambs and a few other moulded pieces. This studwork was probably originally an 18th century insertion possibly prior to the heightening of the roof and walls and was extended largely in softwood in the 19th century as part of those major alterations.
On the ground floor less early fabric survives. The only evidence of the early framing is a main post at the north-east corner of the south building, a plate supporting the floor of the north building adjacent to this post has a rebate for a doorhead showing the location of an early rear entrance.
Actions (login required)