Bush, Louise (2012) Rectory Farm, Great Gransden. [Client Report] (Unpublished)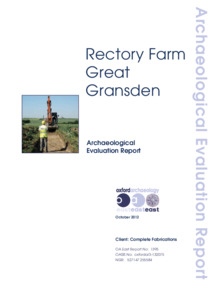 Preview
PDF




Report1395_LR.pdf


Available under License Creative Commons Attribution Share Alike.
Download (2MB) | Preview
Abstract
On the 8th and 9th August 2012 Oxford Archaeology East carried out an
archaeological evaluation on land adjacent to Rectory Farm, Great Gransden (NGR
527147 255584), in advance of the installation of ground source heating pumps.
Trench 1 revealed evidence for the foundations of a wall which contained residual
Roman pottery, along with a shallow pit tentatively interpreted as a sunken-featured
building (SFB), possibly dating to the Anglo-Saxon period. The pit contained animal
bone fragments and a worked bone pin beater of possible late Anglo-Saxon date.
Environmental samples taken from the pit recovered large amounts of charred
grains. The trench also contained two small modern ditches and a post-medieval
furrow.
Trench 2 contained two ditches on separate alignments, both of which contained
early medieval pottery. The larger of the two ditches also contained animal bone
and a large amount of daub. Environmental samples from both ditches produced
high numbers of charred grains. The eastern end of the trench was taken over by a
quarry pit which contained post-medieval tile and early medieval pottery, implying
that it had truncated away further archaeological features.
Also observed in the section of Trench 2 was a buried soil horizon sealed between
the topsoil and subsoil. This indicated that landscaping had occurred at some point
where soil from the northern end of site had been pushed down slope.
Actions (login required)