Fletcher, Taleyna (2012) Undated drainage ditches on land off Kingfisher Drive, Soham, Cambridgeshire. [Client Report] (Submitted)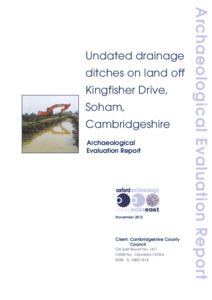 Preview
PDF




Report 1417_Final_LR.pdf


Available under License Creative Commons Attribution Share Alike.
Download (3MB) | Preview
Abstract
Between 16th and 19th October 2012 Oxford Archaeology East conducted an archaeological evaluation on land off Kingfisher Drive on the outskirts of the north-west side of Soham in East Cambridgeshire. The work was carried out in advance of development of the site for construction of a new primary school (Soham 3rd Primary)
The evaluation consisted of thirteen 50m long machine excavated trenches within the footprint of the proposed school buildings, playing field and access road. Although the weather conditions were good, with almost constant sunshine and only a little rain, surface water which had already hampered the harvest of the crop was a constant issue. The surface water which was sitting within the top and subsoil filled the open trenches overnight. This did not prevent identification of archaeological features which were only present in the "dry trenches" on the slightly raised ground.
A total of three undated ditches were recorded during the evaluation, all of which were located in trenches at the south-western end of the site which was slightly higher and drier. The ditches were on two different alignments; two parallel ditches in a north west to south east alignment and one lager ditch on a north to south alignment. Given the different orientations, these are not thought to be related or contemporary and have been interpreted as drainage ditches. The absence of any domestic waste such as pottery or animal bone would indicate that there is unlikely to be any nearby occupation and the position of the site on low, wet ground is an obvious indication for the absence of settlement related activity.
The nearest know settlement was recorded on land approximately 500m to the south east during an excavation at Cloverfield Drive, Soham in 2004 (Mortimer 2006). The site lay at between 6m and 7.5mOD where remains from the Bronze Age, Roman, Saxon, Medieval and Post-Medieval periods were all recorded. However, as part of the 2004 investigations an additional area (Area C) was also investigated which was located less than 200m to the south-west of the current site. Here, only a series of post-medieval furrows were recorded on a north-east to south west alignment and the lack of any earlier features here also supports the suggestion that the investigation site is, and has always been too low and wet to support settlement or other activities.
Actions (login required)